8 Open-Plan Room Blunders... and How to Avoid Them
Author: Georgia Madden Date Posted:15 August 2019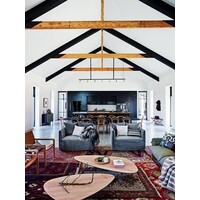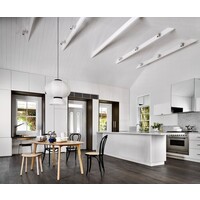 Free-flowing and contemporary – there's much to love about open-plan living. Five experts reveal decor mistakes to avoid.
Whether you're building, renovating, downsizing or daydreaming, chances are an open-plan layout is high on your wish list. And it's easy to see the appeal; open-plan kitchen/living/dining areas feel relaxed, contemporary and make smart use of space and light. But with no defined borders and an unobstructed view right through the space, open-plan rooms can be surprisingly tricky to decorate. We asked five design experts to share the most common mistakes people make when going open-plan… and how you can steer well clear of them..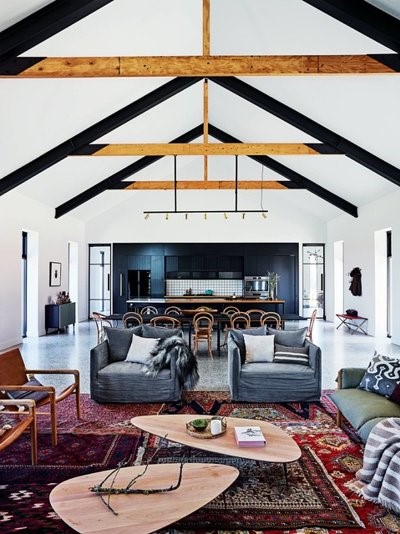 Green Apple Interiors & Design
Kat Siketa, interior designer at keta INTERIORS, says:

1. Blunder: No zoning
To be functional and visually appealing, an open-plan space needs to be zoned into separate spaces – for example, cooking, dining and relaxing areas. These zones essentially act as individual 'rooms' within an open-plan space.

At the same time, you want to have a sense of visual continuity between the separate zones.

Often, homeowners forget to include those essential anchor points that ground the individual 'rooms' within an open-plan space. As a result, an open-plan space can end up feeling like a giant hall.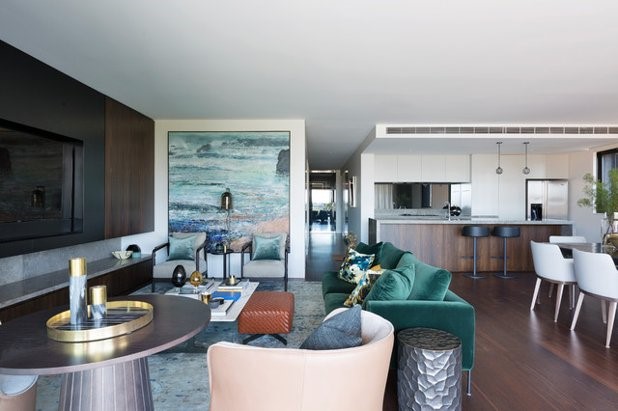 Solution
A simple way to define the individual areas within an open-plan living space is to move the sofa across the room to split it in half. Adding a rug under the sofa and a floor lamp beside it will give a sense of purpose to the living zone.

Then, if you can, create a sense of continuity between the kitchen, living and dining spaces by choosing the same flooring throughout.

Tip: Add interest to your open-plan scheme by incorporating vertical layers. The best way to do this is to create different layers of height using floor lamps, pendant lights and potted plants.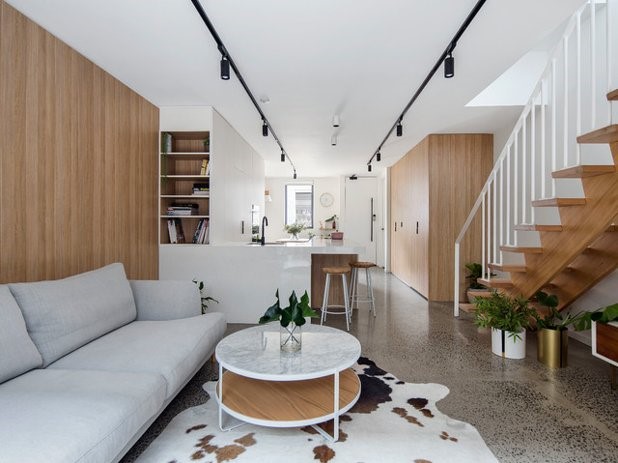 Pitch Architecture + Developments
Interior designer Kirsty Ristevski says:

2. Blunder: Too many different styles
Mismatched furniture and decor items can easily over-complicate an open-plan space and make it look busy. The different elements in an open-plan space need to speak to each other as though they're from the same family, without being too matchy-matchy or feeling forced.

Find a local interior designer on Houzz to help you style your open-plan home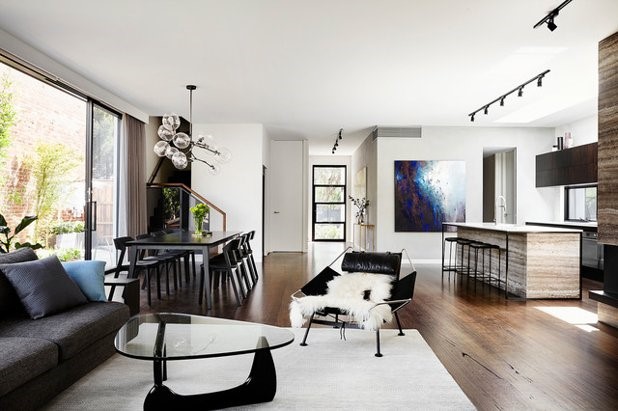 Solution
Choose a style you love, which will work throughout your open-plan space. Select furniture and accessories that vary in colour and material, but still 'speak' to each other visually (such as different shades of the same colour).

Tip: Open-plan rooms tend to be noisier than closed-off rooms. You can help reduce noise levels by adding in softening elements such as curtains, rugs and throws.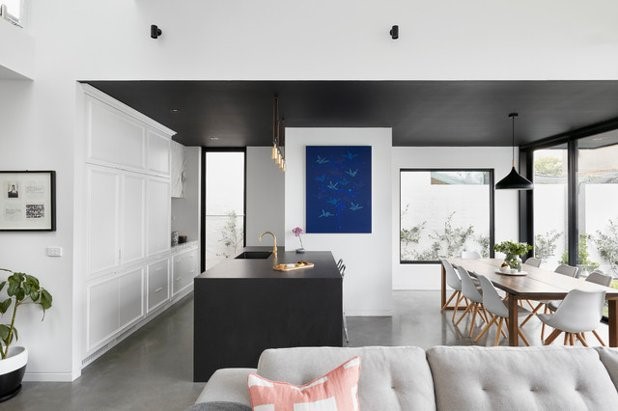 3. Blunder: Taking a blanket approach to lighting
Lighting plays a hugely important part in setting the mood in a room, yet it's often not considered early enough in the design process. As a result, it's not located where it will actually be used. This makes it difficult to create ambience within the individual 'rooms' of an open-plan space. It's harder still to create atmosphere when lights are not on dimmers or they can't be turned on individually.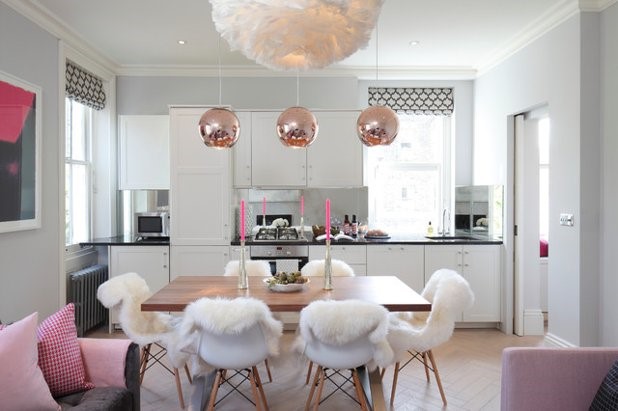 Solution
Plan lighting and electricals at the start of the design project. Think carefully about furniture placement and make sure lighting is positioned where it needs to be. For example, if the sofa is in the middle of the room, a power point may need to be installed in the floor.

Remember, there are fewer walls in an open-plan kitchen/living/dining space than in individual, closed-off rooms, so you need to be far more deliberate in your planning for elements such as electricals, lighting and television connections.

Forget Open-Plan – Try 'Broken Plan'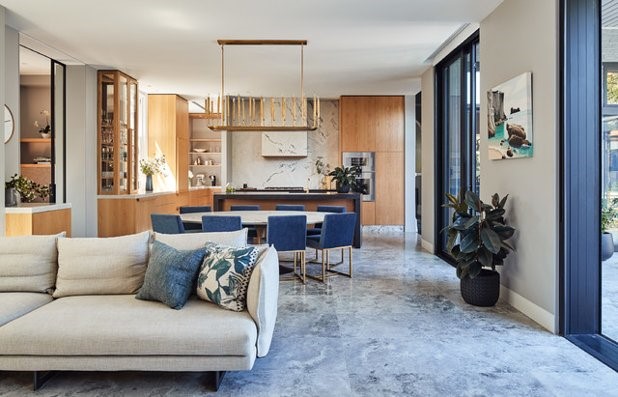 Danielle Trippett, principal at Danielle Trippett Interior Design, says:

4. Blunder: The kitchen doesn't suit the space
You'll often see open-plan spaces where the kitchen has no styling relationship with the architecture of the house or the adjoining living area.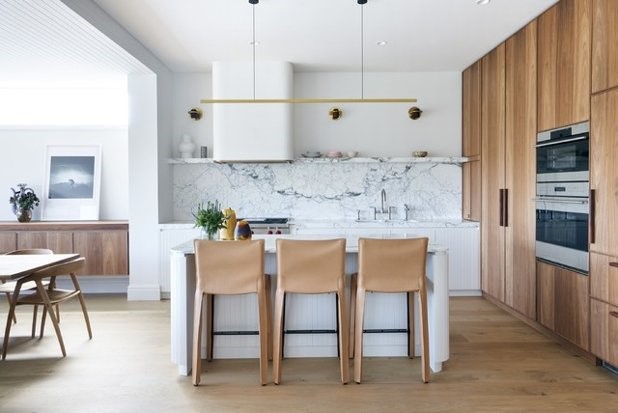 Solution
Make your kitchen a considered part of the architecture of your home and the style of the living area right from the planning stage. When choosing elements for your kitchen – such as colours, benchtop and splashback materials, and joinery styles – ask yourself if they suit the design era of your home and the decor in the adjoining spaces.

Repeating the same colours and finishes in your kitchen and living spaces can help create a sense of cohesion between the two areas.

See how the designers of this open-plan kitchen/dining/living space introduced a continuity of materials throughout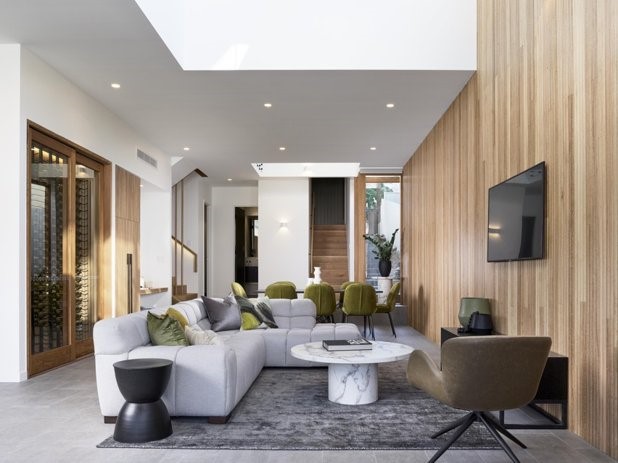 5. Blunder: Too-large furniture
Furniture that is too big for an open-plan space can inhibit the sense of flow and make the area difficult to walk through. Ideally, thoroughfares should be around 900 to 1,000 millimetres wide.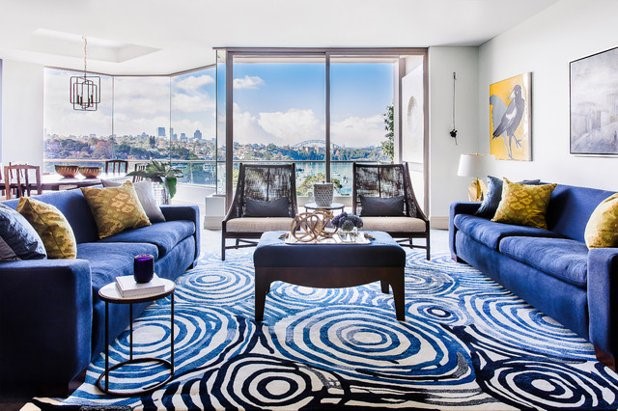 Danielle Trippett Interior Design
Solution
Before you purchase furniture, see how it will look on a floor plan and make sure it gives you enough space to move around. If the open-plan room is small and you can't find furniture to fit, consider having pieces custom-made by a designer to suit the dimensions of the space.

Also, seek out furniture that does double duty; a large round ottoman, for example, can be used as a coffee table and provide storage, freeing up precious space.

How Bespoke Furniture Can Solve Your Design Problems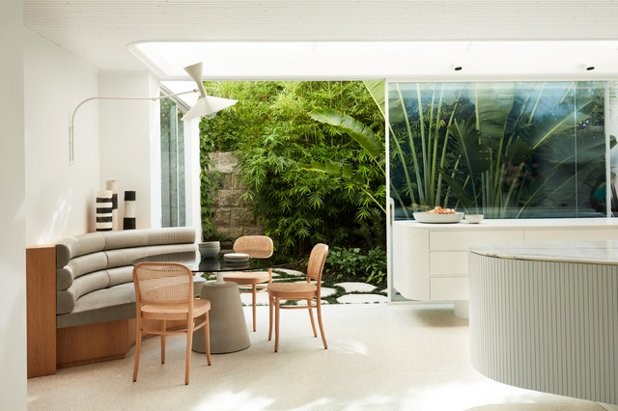 Agnes Sweijer, interior designer and director of of Sweijer Design, says:

6. Blunder: Following the same old rules
Often when people downsize and move to open-plan living, they take their old furniture and decorating ideas with them. Many people don't take into account that open-plan layouts are quite different to closed-off rooms, and chances are the space will be smaller than what they're use to.

People often use the same colour schemes they had in the kitchen, living and dining areas in their old home, despite the fact that these areas are now located in one continuous space rather than in separate rooms. As a result, the room can feel room feel cluttered and uncomfortable, and the decor can clash.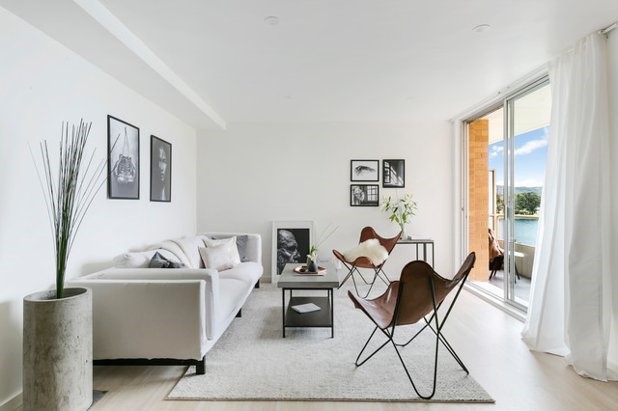 Solution
Rather than trying to recreate the look of your previous home in your new open-plan one, look at the new area with fresh eyes. Start by applying a neutral colour to the walls in the living, kitchen and dining areas, which will give you a solid base and create a sense of flow between the three zones. Then add in one or two supplementary colours, which you can use in different strengths and shades for the finishes and furniture in the three 'rooms'.

If you're using your existing furniture, consider paring it back to the essentials so the space does not feel cluttered. If space is tight, consider swapping some pieces out. You might choose to replace your second sofa with a slender armchair or two, or swap a large coffee table for a trio of compact, stacking side tables that won't swallow up space.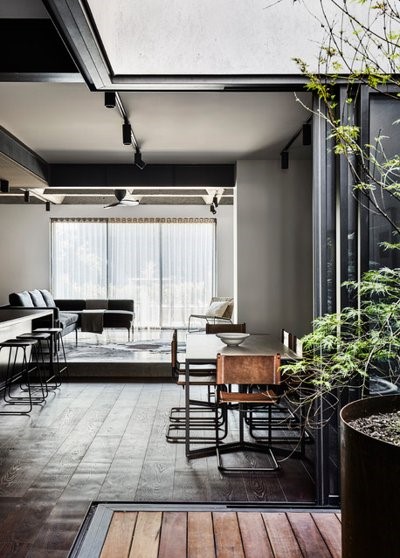 7. Blunder: Poor furniture placement
Badly positioned furniture is an all-too-common mistake in open-plan spaces. The issue comes down to decorating principles; the rules for decorating an open-plan space are different to sequestered or closed-off rooms.

Traditionally, a sofa or storage unit would be pushed up against the wall to maximise floor space. Doing this in an open-plan space can make it feel cold and sparse – a bit like an open sea.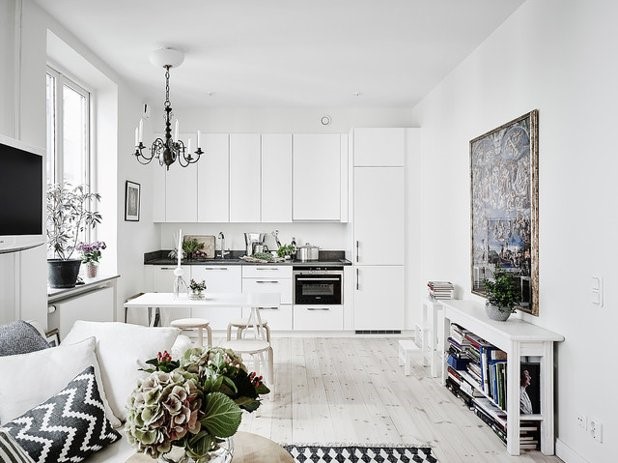 Solution
Be open-minded about the placement of your sofa (which is generally the main piece of furniture in an open-plan living space). Try putting it in a spot where there is no wall behind it, such as the middle of the room. Or, consider having two sofas opposite each other or one sofa and an armchair or two rather than the traditional three-piece setting. If you're buying a new sofa, consider choosing one with a low back that will give you a clear sightlines through the open-plan space.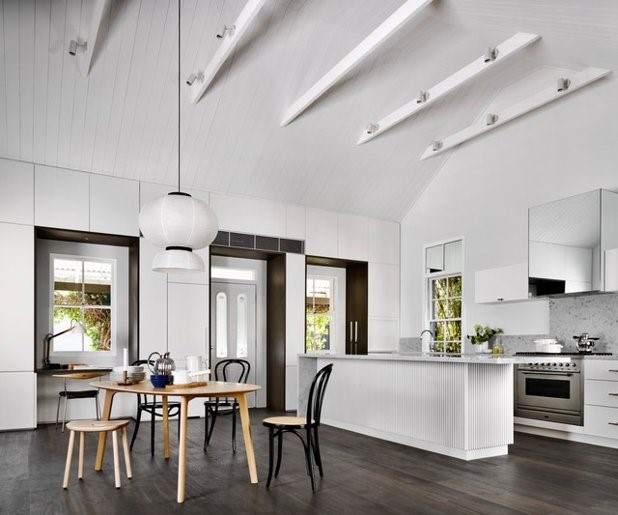 Anna-Carin McNamara, interior architect and principal at Anna Carin Design, says:

8. Blunder: Using too many different materials… or not enough
Finding the right balance for the types and number of materials in an open-plan room is tricky, and it's something a lot of people get wrong. They'll often use too many different materials and finishes in an open-plan space, making the area look busy; or they may not use enough, which can leave the room feeling dull and flat. You want an open-plan space to feel simple and cohesive in its aesthetic, but interesting too.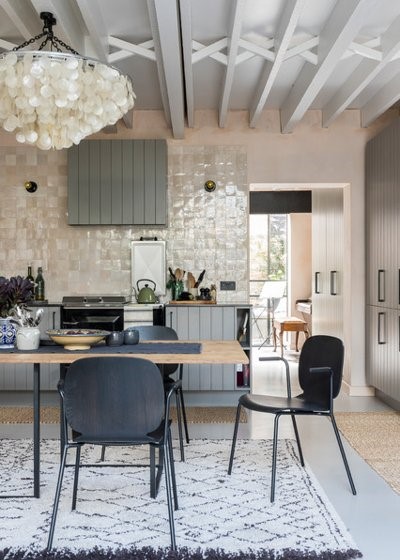 Solution
Space planning is the key; spend time getting the set-up right and visualising how the room will work and look before you decorate. Start with a plan, then an elevation or a three-dimensional model. When it comes to the right number of finishes for an open-plan room, as a rule of thumb it's wise to choose no less than three and no more than five.

And remember, when choosing finishes, it's important to create a balanced look. If, for example, you have a lot of hard materials, such as stone, in the kitchen, balance them out with curves and warm materials, such as timber, in the dining and living areas.

Tip: Don't plan for open shelves in an open-plan space unless you love styling.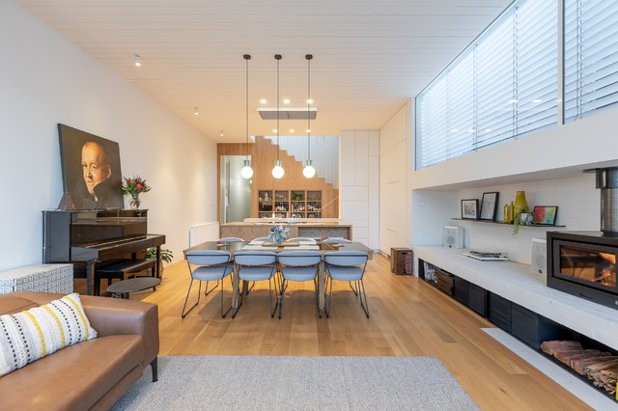 <div id="hzroot5495595" style="width:300px;text-align:center;font-size:12px;padding:0;border:0;margin:0;"><div style="font-size:14px;margin-bottom:3px;"><a href="https://www.houzz.com.au/magazine/8-open-plan-room-blunders-and-how-to-avoid-them-stsetivw-vs~113830470" target="_blank">8 Open-Plan Room Blunders... and How to Avoid Them</a></div><div style="padding:0;margin:0;border:0;margin-bottom:3px;"><iframe data-hzvt="MjAxOTA4MTk6NDA2Njp2aWV3R2FsbGVyeQ==" name="HouzzWidget6027712" id="HouzzWidget6027712" border=0 frameborder="0" SCROLLING=NO style="border:0 none;width:300px;height:275px;" src="https://www.houzz.com.au/jsGalleryWidget/gallery/113830470//new_window=yes/title_on=yes/width=300"></iframe></div></div>
---
Leave a comment