Dining Chairs
We have many different styles to choose from!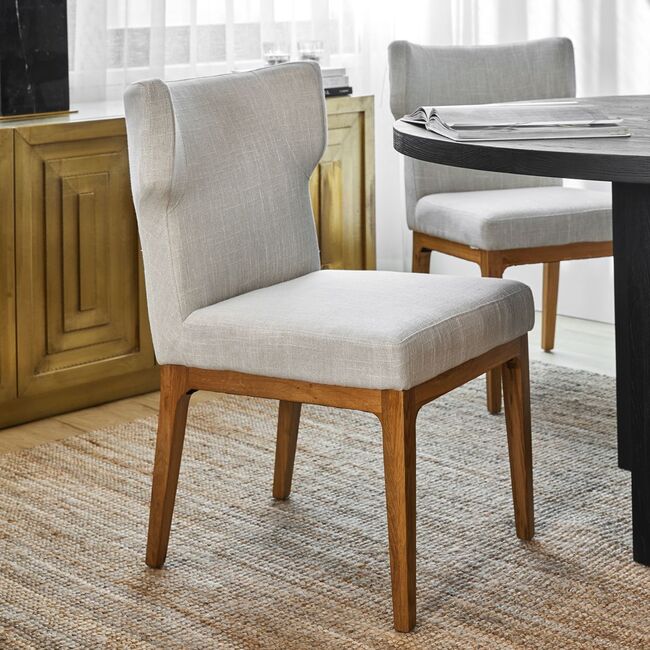 Furniture plays an essential role in changing the ambience of any place. Be it an office, house, or restaurant; it is vital to add the right type of furniture pieces to give it a perfect look that reflects your lifestyle and personality. For example, if you want to give your dining space a touch of luxury and elegance, you must invest in some exquisite dining chairs.
Welcome to Dwell Living Interiors for an excellent range of dining chairs in Australia. We are your one-stop online shop meeting all your furniture needs. Whether it's regular dining chairs, cross back dining chairs or any other chairs, we have all for you.
Buying online comes with the advantage of comparing different styles, designs, and rates and choosing the one that fits your needs the best. Here, you also get hassle-free payment options. So, check out some of our fantastic dining chair designs at Dwell Living Interiors.
What We Offer
At Dwell Living Interiors, we offer a variety of carefully selected dining chairs for your dining area. From ordinary to cross back design and everything in between, we have something for every taste, personality, and lifestyle.
We know durability, comfort, and aesthetic design are three major concerns that you consider while shopping for dining chairs online. Therefore, we strive to offer a good range of kitchen and dining chairs that are designed to meet your essential criteria.
Whether you want to complement the classic look of your dining area or plan to buy something modern to match the contemporary setting of your room, we have a host of options to meet your requirements. Given the vast options of dining chairs available at our online store, it is a smart idea to consider design, comfort, and durability as your evaluating criteria.
Our kitchen or dining chairs are available in an array of brilliant colours like white, green, blue, brown, black, beige, and much more to suit your colour preference. Moreover, we provide cross back dining chairs in various materials and models to make them compatible with your dining room setup.
The designs and materials used also help to enhance your comfort. Hence, you can choose wooden, metal, wicker, plastic, and more to suit your budget and need. In addition, we offer free standard delivery on some of our products within Australia to add more value to your shopping experience. Please read our shipping and refund policies to learn more about our services.
FAQs
What are the main types of dining chairs do you stock?
At Dwell Living Interiors, you can find an extensive range of dining chairs in different styles, designs, materials, and colours catering to different needs and budgets. We have an excellent selection of bentwood dining chairs, brook armed chairs, Jaxon chairs, cross back chairs etc. You can explore our ranges to learn more about the available options.
What are the benefits of a cross back chair?
Cross back dining chairs are known for their solid construction, durability, and casual style. It generally comes with distressed accents that match perfectly with rustic farmhouse decor. The chairs feature curved back support, tapered legs, and a hand-woven rattan seat that offers long sitting comfort. In addition, its armless designs, open backrest and seats with supportive comfort makes the chair an ideal option for summer.
What do you mean by a dining side chair?
A dining chair without arms is called a side chair. It is often used in the dining space to create additional dining table seating. Hence, its armless design gives a sleek structure that can easily fit around small spaces of dining table corners or nooks.
Why do some dining chairs come with arms?
Dining chairs with arms are designed to provide added support and comfort. It provides arms where you can rest your hands while having your food. In addition, you can easily get in and out of the chair with the arms to lean on.
It creates an impressive look when placed at the head of the table. If you have a large dining room, you can go for the chair with arms as it helps to create an impression of fullness that completes the look of your dining space.
Why Trust Dwell Living Interiors?
Dwell Living Interiors is renowned for its product quality and service excellence. We have been servicing this industry for long years now and have gained sufficient expertise and business insight to understand the expectation of your modern home.
We are proud of our customer-centric approach, precise service, and highest quality product that has established us as one of the most trusted online furniture shops. Moreover, we believe in creating a one-point contact experience for our customers. Hence, we stock an extensive range of furniture pieces in different categories to make you avail of all furniture types under one roof.
As a result, our furniture collection suits every lifestyle, mood, taste, and budget. In addition, you can get valuable advice and guidance from our experts regarding your furniture choice based on our unmatched experience.
Some of the popular traits that make us the first choice of many are:
Unmatched experience

– We have been decorating different homes and offices across Australia since 1983 and understand your expectation. Hence, we strive to update our collections to meet the needs of this ever-evolving market.

Prompt Delivery

– We offer prompt delivery for all your orders. So, you can order from anywhere in Australia. It will reach your doorstep smoothly, on time. We also give a free delivery service for some of our furniture pieces.

Warranty

– We provide structural warranty services for the products having manufacturing defects or faults.

Transparent Dealing

– We ensure no hidden charges will surprise you at any stage of your dealing with us. All our service and product charges are transparent and fixed.

Service Excellence

– We never compromise with quality. All our furniture pieces are made of the highest-quality material, making them highly durable and robust.
Place Your Order
To know more about furniture pieces or to make an informed purchasing decision, call us on 1300 554 881. In addition, you can fill out our online form to leave your message for us. We will get back to you for a detailed discussion.
---