Console Tables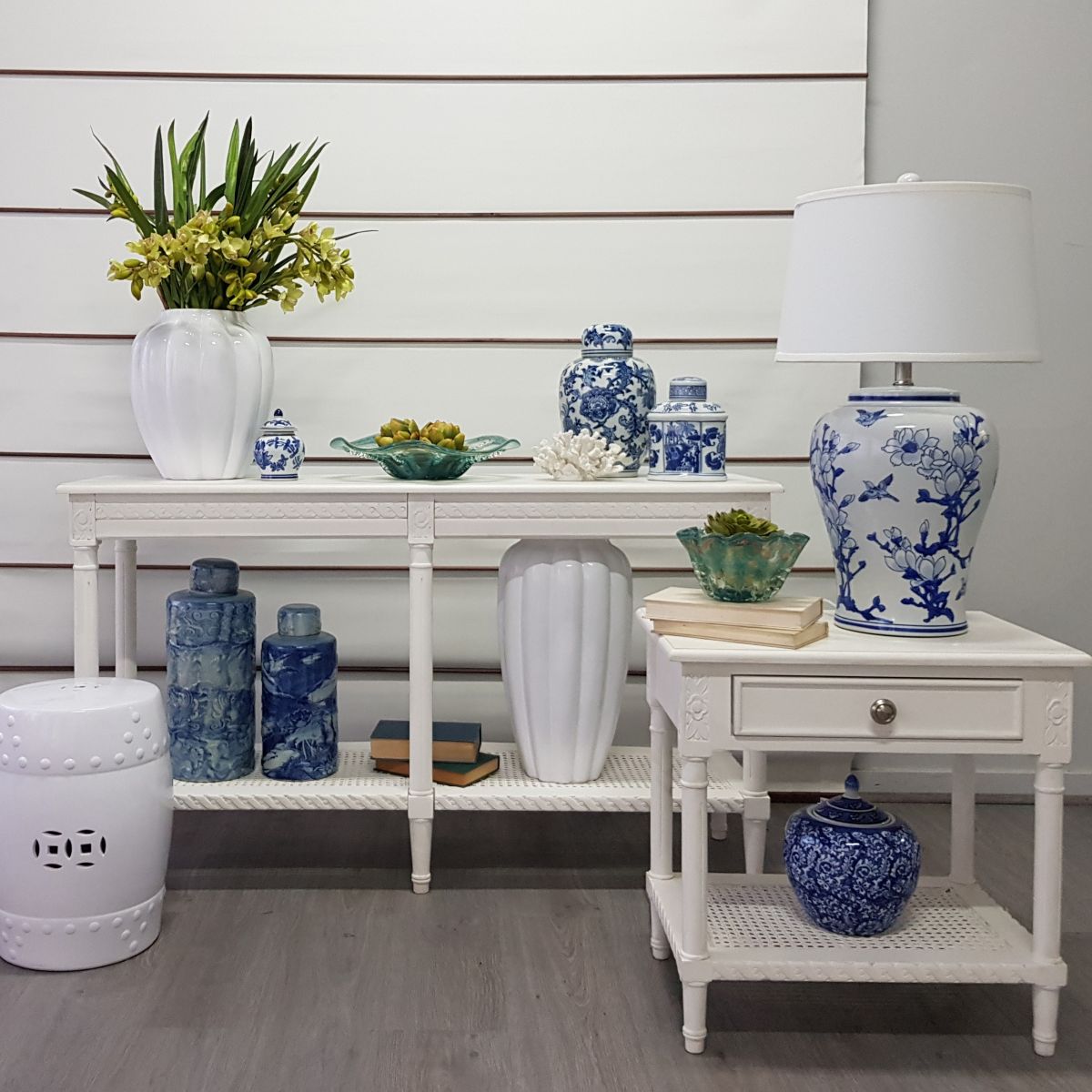 Top-Quality Console Tables in Australia
In search of a useful piece of furniture to elevate your home's aesthetic and functionality? This is where our beautiful console tables can be used to enhance the living room decor by showcasing items like table lamps and vases. Console tables originally meant for foyers, hallways, and narrow spaces with rectangular slabs supported by wall brackets, have evolved to feature a high frame and narrow tabletop.
Dwell Living Interiors offers a luxurious collection of console tables in Australia. These stylish pieces are made of a combination of wood/MDF and a sturdy board frame, adorned with elegant embellishments that make a stunning visual impact. Choose from a variety of drawer configurations to fit your storage needs, with smooth metal sliders and handles in eye-catching styles like crystal glass, brushed gold, and graphic designs.
Some of our console tables feature mirrored panels with antiqued champagne mouldings and hardware. If you are looking for a console table that exudes understated elegance, go for ones with polished natural stone tabletops perched atop an iron frame finished in antique gold or other metal colours.
Our console tables are easy to clean and maintain, and with their sleek design and attention to detail, they will complement any room. Browse our selection to find the best console table for your home.
What makes our console tables so popular?
Our console tables are a practical storage solution which can make efficient use of small spaces. You can place it against a wall or in an entryway or even behind a couch. Not only does it provide extra storage, but it also serves as a display platform for your home decor and style, making them a versatile piece of furniture.
Our console tables come in a wide range of styles, materials, and designs, making it easy to find one that complements the decor of any room. Each of our online console table's decorative appeal also stands out. They provide a platform to display decorative items such as table lamps, vases, and picture frames, adding visual interest to a room.
Overall, our console tables offer a combination of style, functionality, and versatility, making them a popular choice for home furnishings.
Some of the specialties of our console tables are:
Blends well with any style of furniture
Dwell Living Interiors have a variety of console tables that are versatile pieces of furniture and blend well with many different styles of decor and furniture. They often feature neutral colours and simple designs, making them a versatile option that can complement a variety of furniture styles. Additionally, their compact size makes them easy to integrate into any space, regardless of the room's size or layout.
Our console tables are indeed multifunctional. They can serve several different purposes in a room, including providing extra surface space, offering storage options, and serving as a decorative display. This flexibility makes console tables a popular choice for homeowners looking for a piece of furniture that can serve multiple functions in one compact package. They can be used in entryways to hold keys and mail, in living rooms to display decor and store books, or in bedrooms as a dresser or nightstand.
How to choose a suitable console table
When deciding to buy a console table for your home or office, it's important to consider factors such as the room's size, design, colour scheme, and decor. For example, if your furniture is made of solid wood, a console table with a wooden finish may be a good choice. If you prefer a more modern look, you could opt for a console table with a metal finish.
Additionally, it's important to consider the size of the table to avoid an overcrowded look in the given space. At Dwell Living Interiors, we offer a wide range of console tables online, including options with drawers and shelves. This allows you to choose the table that best fits your room size and complements your personal style, whether that is modern, classic, or vintage.
Browse our product range to find the perfect console table that fits your space and meets your needs
.
You can easily order our console tables online. To find out more about our exclusive console table pieces, give us a call on 1300 554 88. You can also fill out our online form to reach us online.
---