Mirror Bedside Table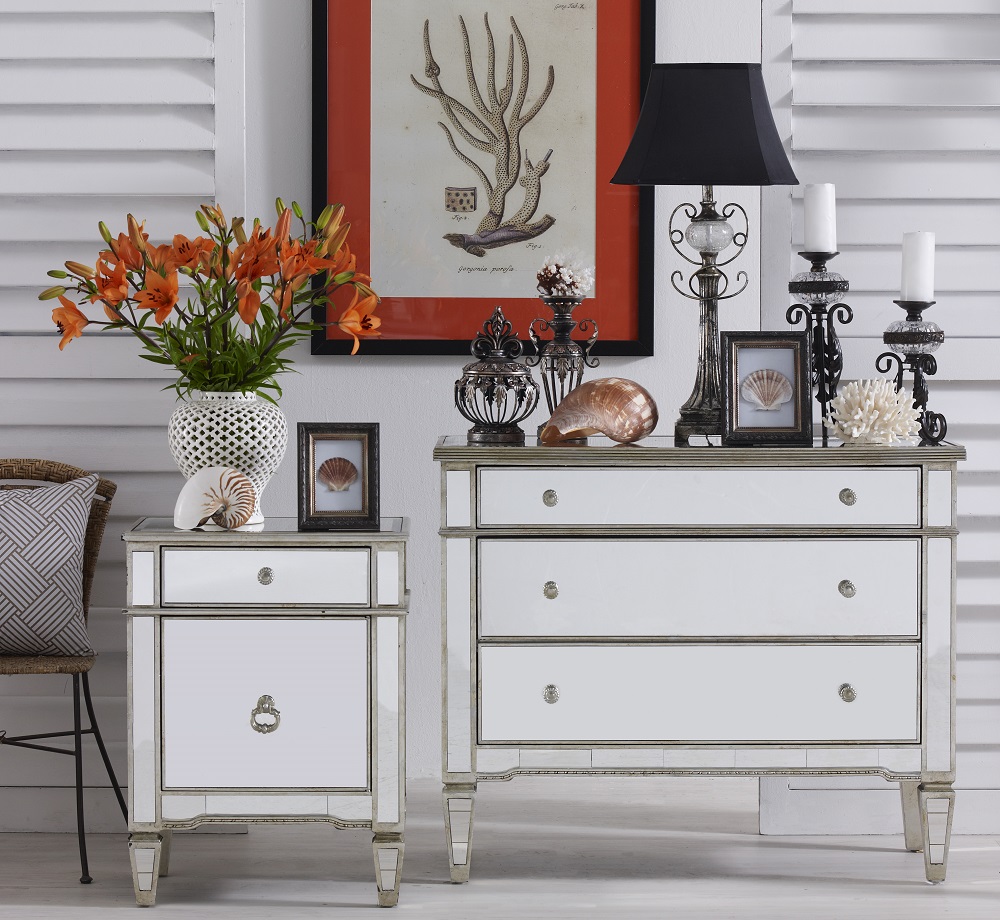 Top-Quality Mirror Bedside Table In Australia
Enjoy all the glamour and glitz that comes with our wide range of mirror bedside tables in Australia. Cladded with bevelled mirror glass and a high-grade durable board frame, the elegant bedside tables are stunning from any angle. It exhibits its mirrored beauty to the room where it is placed. In addition, the effect gives your room a larger-than-life look of size and space.
The drawer comes in different numbers based on your storage needs offer a great storage solution. Drawers are generally fitted with coated metal sliders that help in smooth operation. Moreover, the handles with crystal glass effect add a scintillating touch to your bedside table with an elegant appeal.
Easy to clean and maintain, our mirror bedside table is all about simple luxurious living. Our mirror bedside tables result from clear lines and attention to every detail and can complement a room of any size or shape.
Dwell Living Interiors stocks a superb range of mirrored bedside drawers in different styles and patterns. Explore our product range to get a stunning mirror table to enhance the aesthetic appeal of your bedroom.
What Makes Our Mirror Bedside Table So Popular
Our mirror table lifts the beauty of your bedroom by a great notch and offers practical benefits because of its versatility. The designs and styles can easily blend with your bedroom's existing decor exhibiting a sense of grandeur and luxury.
Therefore, you can select a mirror table from our online collection and match it with your bedroom furniture to get a uniform look based on your personality. A wise selection of our furniture pieces helps you create a focal point that makes an instant statement in your room.
Don't think that our mirror bedside tables are only for your bedrooms. They have great utility in your living room and kitchen also. For example, you can place your mirror table in your living room or kitchen to get storage solutions for your kitchen stuff, accessories, photo albums, books, files, keys, magazines, and many other belongings.
In addition, you use its flat surface to keep your flower vase, showpieces, table lamp, and many other display items. Hence, our mirror table piece can add significant value to your room's decor and functionality.
Some of the specialties of product that make it a major attraction of many are:
Blends Well with Other Bedroom Furniture
Our mirror tables are designed in such a way that they can blend well with all bedroom furniture and add a wow factor to the interior environment. You can place it on either side of your bed to complete the look of your bedroom. In addition, you can use these tables with great aesthetic value as a console table and place them at your entryway or living area to store your household stuff.
Adds Wow Factor
Other than offering a smart storage solution and keeping your room well-organised, our mirror side table pieces play a crucial role in enhancing the aesthetic beauty of your room. You can place it on either side of your bed to frame your bed and fill in the empty spaces of your room or use it as a nightstand. It will elevate the look of space regardless of where you place it.
Known For Its Multifunctionality
Apart from the bedside, you can place it in any part of your house and use it as an end table or corner table. These utilitarian or functional tables are ideal furniture pieces to enhance the look of your room. In addition, their multipurpose characteristics provide invaluable functionality to your bedroom, living room, kid's room or any other space of your house.
How To Choose A Suitable Piece
You will have to consider our bedroom's size, design, colour, and decor before choosing a perfect mirror bedside drawer. For example, if your bed is made of solid wood, a mirror table with a wooden finish can perfectly. Similarly, if you want a more contemporary look, you can choose mirrored or metal bedside table.
In addition, if you don't want your bedroom to have an overcrowded look, you must consider the size of the mirrored nightstand before purchasing it. Dwell Living Interiors offers a great variety of mirror bedside tables online, including tables with one drawer, two drawers, and many more. So, you have wide options to choose the table that best suit your bedroom's size, complementing your modern, classic, or vintage personality.
Therefore, explore our product range to choose the perfect piece that fits your space and meets your needs.
Contact Us
Call us on 1300 554 881 to find out more about our furniture pieces. In addition, you can fill out our online form to connect with us online. We will get back to you with more information.
FAQs
What if I find the exact product at a lower price somewhere else? Shall I buy it?
At Dwell Living Interiors, we offer a quality product at a highly competitive price. Our name stands for quality, service excellence, and affordability. Our reputation is based on our decades of experience and dedication to excellence. Hence, we can't compromise with quality. Because of this specialty, we have gained thousands of repeat and satisfied customers to our credit.
While shopping online, you will come across different price ranges for the same item. A cheaper option may lure you sometimes, but it may not be an intelligent decision. You can save a small amount, but there are high chances that you may compromise with quality. Moreover, it may make you spend more on their replacement or repair in the long run.
Therefore, you must consider brand reputation, quality, reviews, and ratings before making your purchasing decision.
What should I do if I have complaints or issues regarding your service or product?
If you are not happy with our service or product, you can call our customer care team directly and discuss your issues. In addition, you can also fill online enquiry form to leave a message for us. We will get back to you as soon as possible and resolve your issues or complaints in the best way possible.
---