Dining Tables
Choose from our different styles....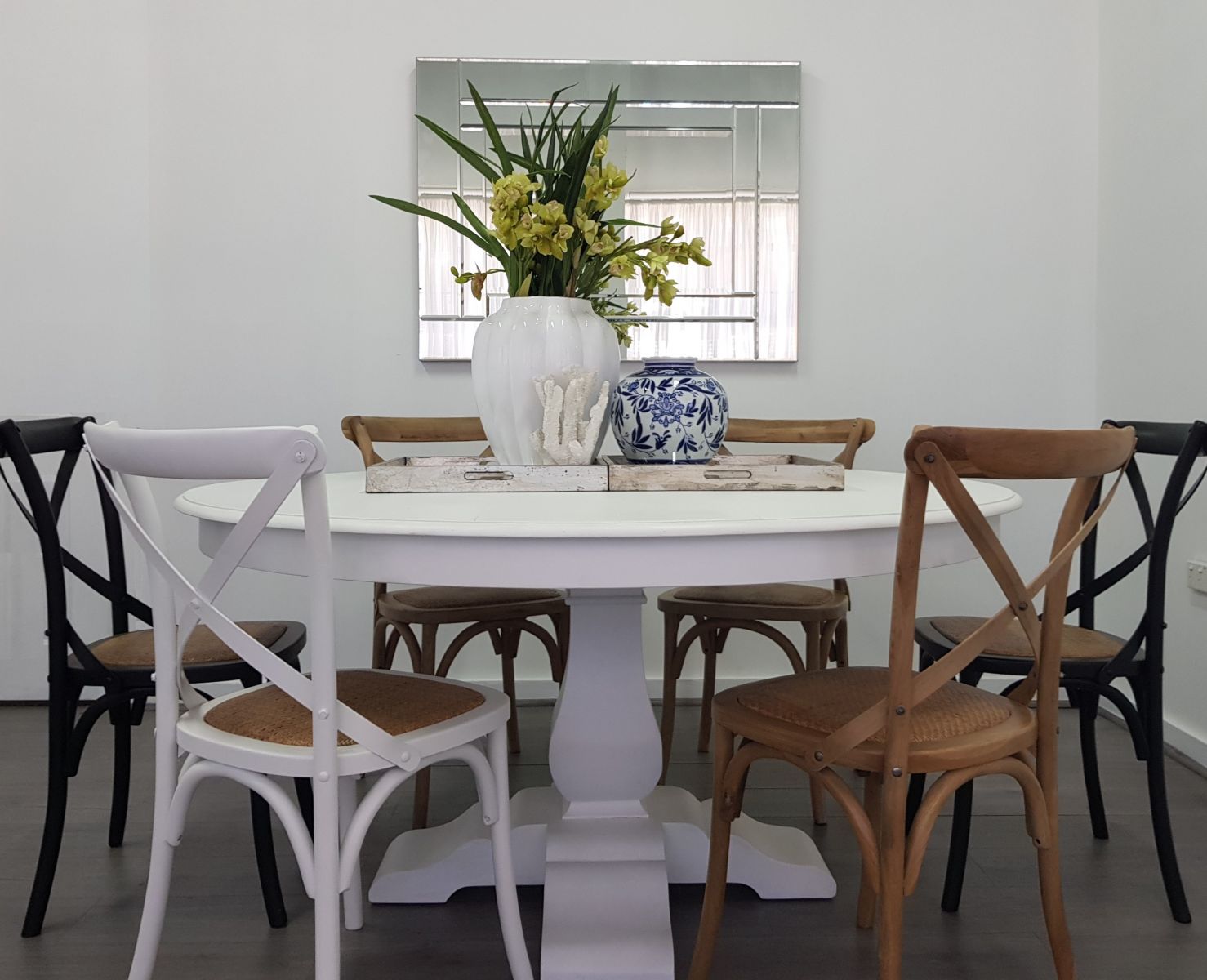 The Importance of Dining Tables
A dining table is not just another piece of furniture in your home. They provide a designated space for family and friends to gather and eat together which creates a sense of connection and community within the household. This in turn enhances social interactions which is especially important in this post era of Covid and the isolation many people have experienced. They also promote routine and healthy eating habits by encouraging communal dining and can discourage eating on the go. A statement dining table can also add value to your home as a dedicated dining space is often seen as a desirable and formal feature in a home.
Factors to consider while buying a Dining Table
Size:

Consider the size of your dining room or dining area, as well as the number of people you'll need to seat regularly. You'll want to choose a table that fits comfortably in the space and can accommodate the number of guests you plan to entertain.

Shape:

The shape of the table can also be important. Round and square tables are better for smaller spaces and can create a more intimate atmosphere, while rectangular tables are better for larger spaces and can accommodate more guests. Choose from Dwell Living Interiors' range of rectangular and square tables to suit your living space.

Style:

Dining tables come in a wide range of styles, from traditional to modern. Consider the overall style of your home and choose a table that complements the decor. Dwell Living Interiors has a nice mix of modern and classic designs to choose from.

Material:

Dining tables can be made from a variety of materials, including wood, glass, metal, and more. Choose a material that suits your lifestyle and the level of maintenance you're willing to do. Dwell Living Interiors currently supply stylish wooden tables which are easy to look after.
Why Trust Dwell Living Interiors?
Dwell Living Interiors is renowned for its product quality and service excellence. We have been servicing this industry for long years now and have gained sufficient expertise and business insight to understand the expectation of your modern home.
We are proud of our customer-centric approach, precise service, and highest quality product that has established us as one of the most trusted online furniture shops. Moreover, we believe in creating a one-point contact experience for our customers. Hence, we stock an extensive range of furniture pieces in different categories to make you avail of all furniture types under one roof.
As a result, our furniture collection suits every lifestyle, mood, taste, and budget. In addition, you can get valuable advice and guidance from our experts regarding your furniture choice based on our unmatched experience.
Some of the popular traits that make us the first choice of many are:
Unmatched experience

– We have been decorating different homes and offices across Australia since 1983 and understand your expectation. Hence, we strive to update our collections to meet the needs of this ever-evolving market.

Prompt Delivery

– We offer prompt delivery for all your orders. So, you can order from anywhere in Australia. It will reach your doorstep smoothly, on time.

Warranty

– We provide structural warranty services for the products having manufacturing defects or faults.

Transparent Dealing

– We ensure no hidden charges will surprise you at any stage of your dealing with us. All our service and product charges are transparent and fixed.

Service Excellence

– We never compromise with quality. All our furniture pieces are made of the highest-quality material, making them highly durable and robust.
Place Your Order
To know more about furniture pieces or to make an informed purchasing decision, call us on 1300 554 881. In addition, you can fill out our online form to leave your message for us. We will get back to you for a detailed discussion.
---