Help! My Home Is a Blank Canvas. Where Do I Start?
Author: Noni Edmunds Date Posted:10 October 2018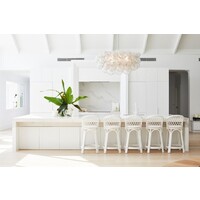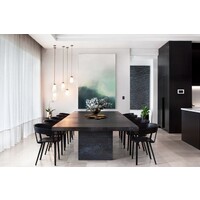 You've moved in and... what now? How do you transform a brand-new home into a warm, welcoming retreat?
Moving into a brand-new home often means a space with bare white walls and spaces that are less than ideal. Knowing where to start when creating a homely atmosphere can be daunting. Here are some tips to help you add your style stamp. First, assess your existing colour palette to determine if you will continue to work with what's there or make a fresh start. Your existing colour palette will include the flooring, wall-paint colour, tiles, window and door details, kitchen and other joinery finishes. Even white paint can be either warm or cool toned so make sure it will work with your overall vision.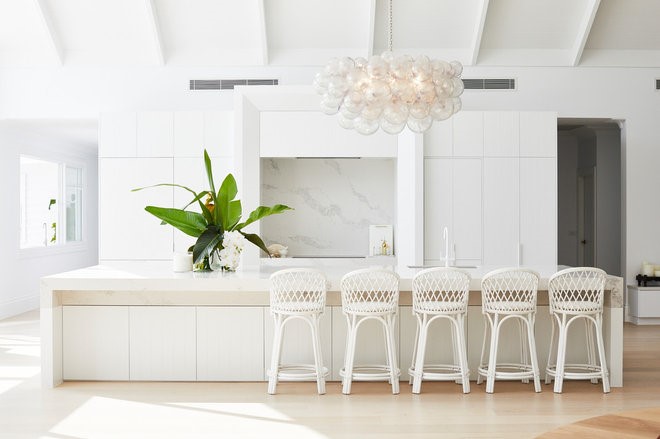 Email Save
All white is alright
If you are a fan of a crisp white interior, it doesn't need to be bland. The key to a successful white room is to introduce some warm details such as warm-toned timber and warm colour accents in accessories including your cushions, textured rugs and comfortable sofas so the room does not feel sterile.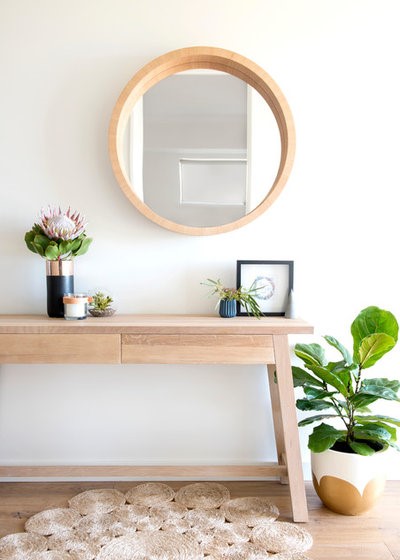 Email Save
Simple furniture in pale timber with selected accessories including a circular seagrass mat and touches of green plant life provide a soothing and homely Scandi-style atmosphere in this all-white interior.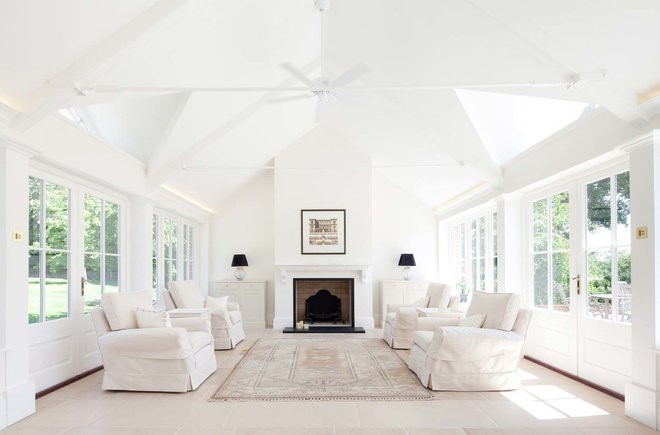 Email Save
If you are lucky enough to have architectural features in a room, don't be afraid to paint everything white. A few subtle accents such as table lamps, artwork and a fireplace provide the perfect balance.

Tip: White paint that contains a tint of black will provide better coverage with fewer coats.

See more transitional-style living rooms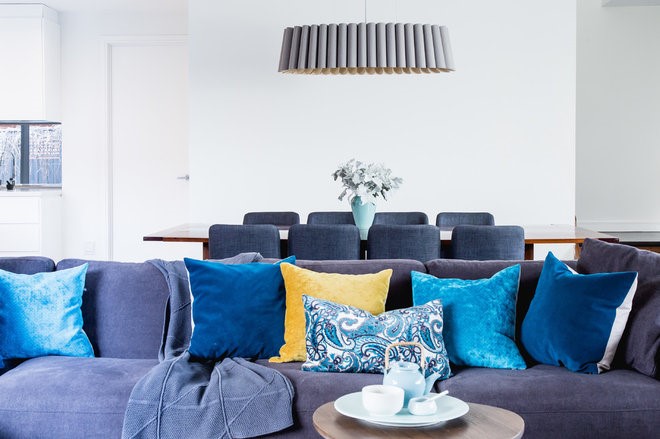 Style Precinct Interior Design & Decoration
Email Save
Create a contrast by selecting dark furniture in dining chairs and sofas. You can dress them up by introducing your favourite colours through cushions and small accessories that can be changed easily at any stage.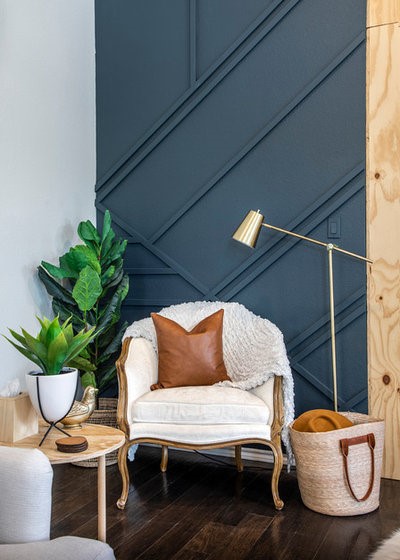 Email Save
Add some colour
A shot of colour can energise a space and add instant impact. A dark-blue accent wall provides a focus for this room and adds charm to the space.

Tip: Choose bright artwork or accessories to inject a pop of colour.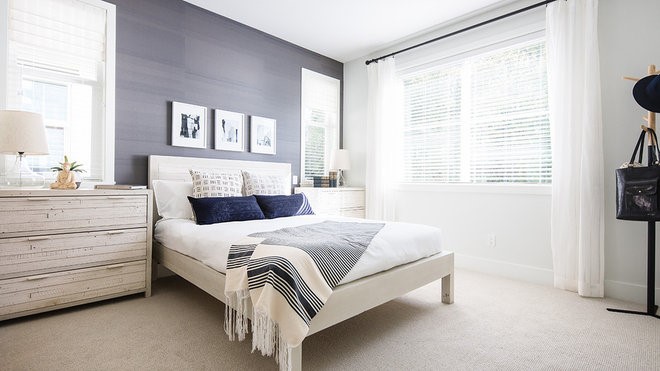 Email Save
Wallpaper can bring instant personality to a room and add to the colour palette. Try a subtle silk-texture wallpaper in a soft metallic sheen to bring texture to a room, a grasscloth wallpaper in a statement colour to create a cosy atmosphere, or bold patterns for a stronger contrast.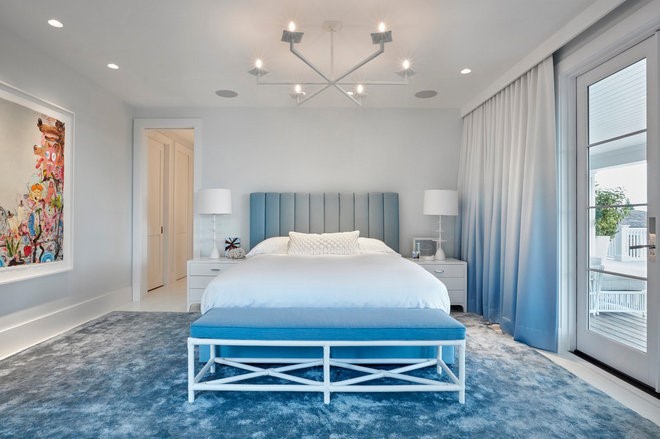 Ghislaine Viñas Interior Design
Email Save
Co-ordinate your choice of fabrics in soft furnishings and window coverings to inject colour into a space.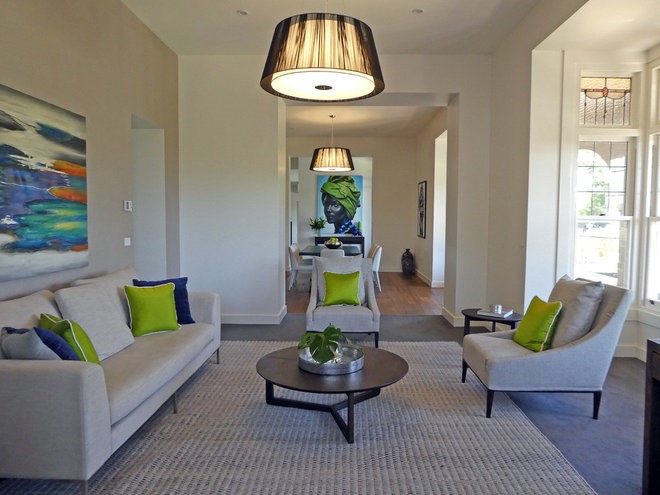 Style Precinct Interior Design & Decoration
Email Save
Focus on a hero piece
Each space should have a hero piece that leads the eye to a focal point. The way this living and dining space is set up leads the eye to a colourful, bold artwork set centre stage.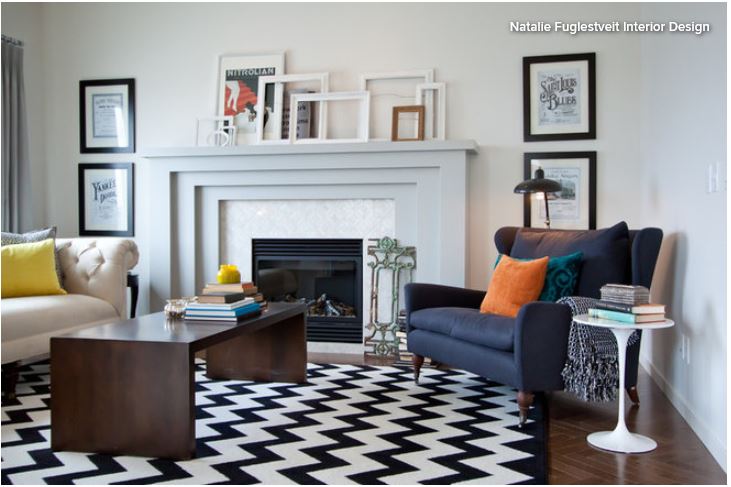 Natalie Fuglestveit Interior Design
Email Save
Make an existing feature, such as a fireplace, the main attraction. Add artwork, furniture and a strongly-patterned rug for a modern, eclectic style.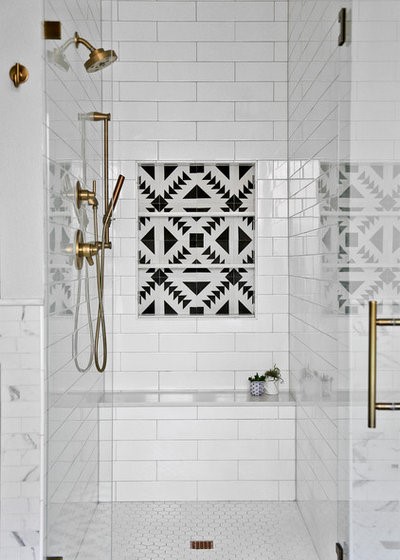 Email Save
Tile a wall in a feature tile to highlight luxury fittings such as freestanding baths or to add interest to wet zones.

Tip: Consider using a different grout colour on a tiled accent wall.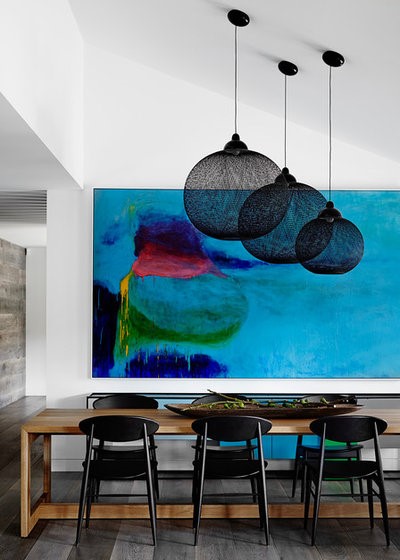 Email Save
Be inspired by art
Let artwork set your style direction. Consider the size, placement, colour and type of artwork, as it will often become the main focal point of the room. A large artwork takes centre stage in this dining space and is enhanced by the pendant light selection and black dining chairs.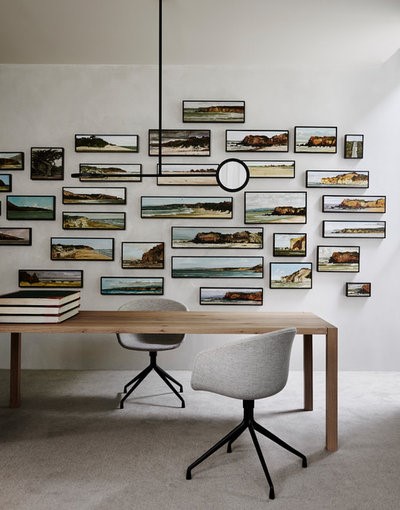 Australian Interior Design Awards
Email Save
Make a display of a collection to create an interesting installation. More is more with this artwork collection of small-sized landscapes.

Tip: For a sense of cohesion with a gallery wall of artworks, take inspiration from this home and choose matching style of frames.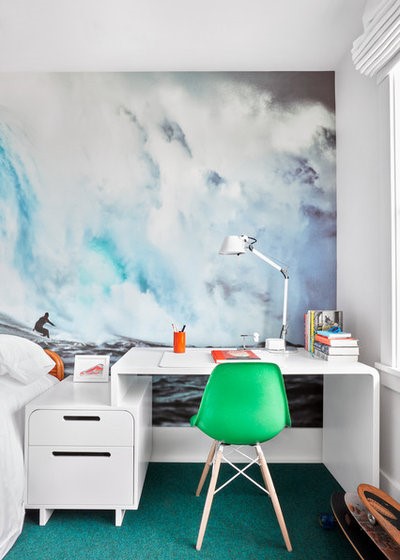 Ghislaine Viñas Interior Design
Email Save
Print an oversized custom-designed canvas using one of your own photographs or a purchased stock image to create a personal artwork. Work with colours drawn from the artwork to add pops of colour with your furnishings, chairs and rugs.

11 Ways to Personalise Your Home With Customised Products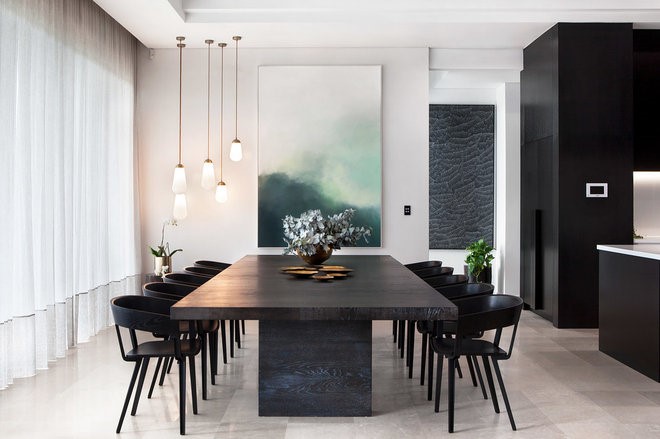 Email Save
Lighting magic
Plan for lighting from the beginning as part of an update. Well-considered lighting that is a mix of ambient (background), task and decorative accent lighting will add sparkle to your spaces.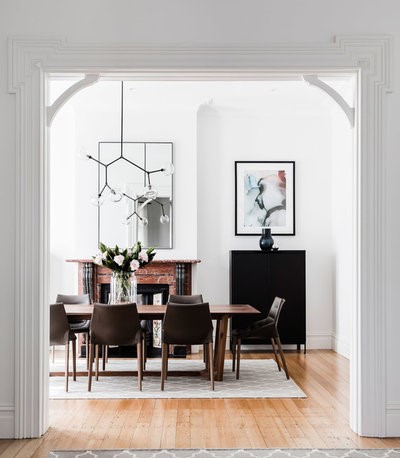 Email Save
Pendants are the easiest update to make with lighting. Choose a size and shape that suits the proportion of your room.

Tip: Check the drop on the product specifications to make sure it suits your needs.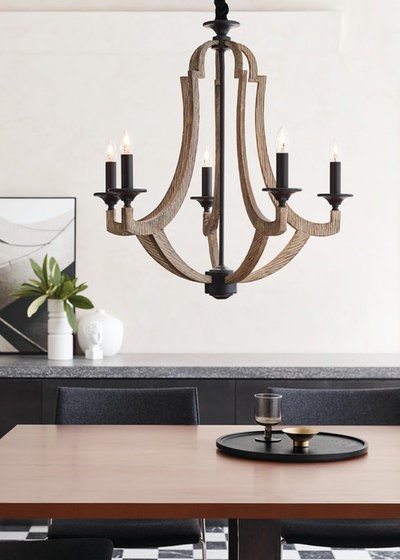 Email Save
Make a dining space more intimate with a low-hanging pendant light.

Tip: Hang a pendant fitting 70 to 80 centimetres above your dining table.

Expert Eye: A Room-by-Room Guide to Creative Lighting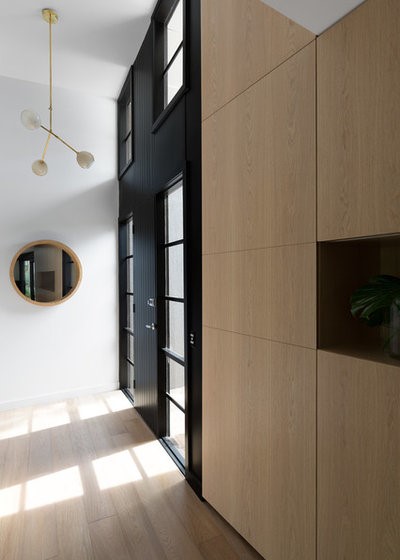 STUDIOMINT Architecture & Interiors
Email Save
Material benefits
Re-evaluate the materials in your home. You can interest with materials such as timber joinery finishes, or paint your windows and doors in a charcoal colour to highlight and contrast the architectural style.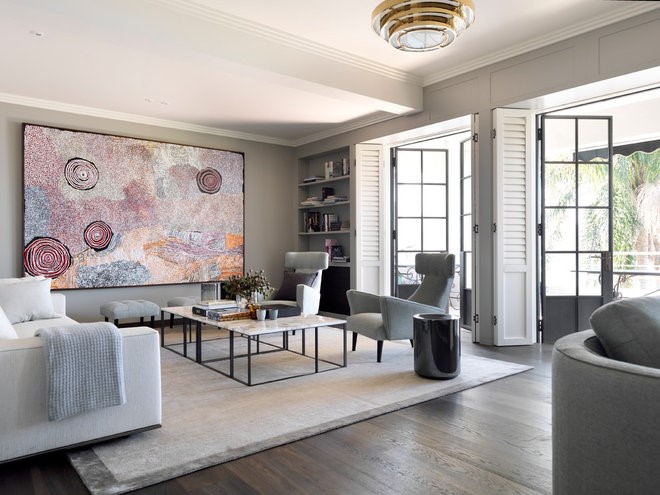 Email Save
A change to the windows or doors in a space can make a dramatic difference in natural light. Black steel-framed doors and windows can add a new level of charm and style.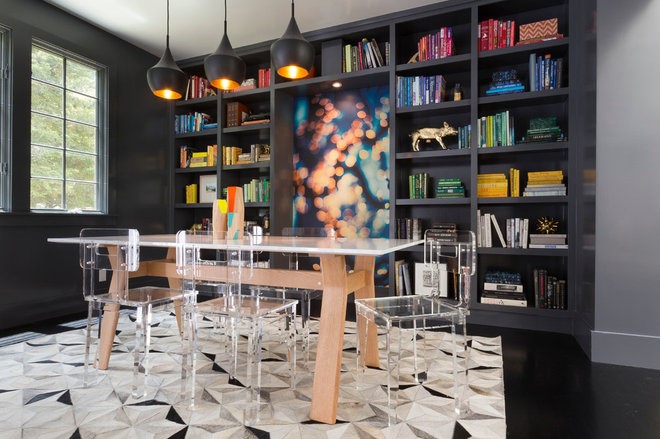 Email Save
An interior designer can customise built-in joinery to make the best use of a space to house your treasured collections.

Tip: Sort your books or collections into colour groups and display by colour blocking.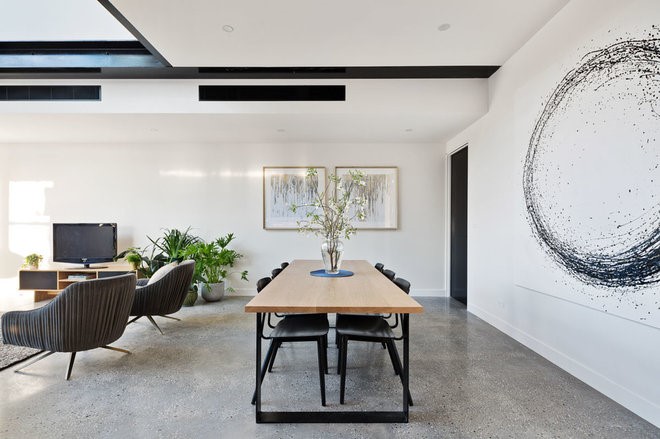 Email Save
Textural materials such as concrete floors and black architectural details work well together in a modern, streamlined and minimal interior.

Tell us
How have you decorated your blank canvas of a house to create a home? Tell us your tips in the Comments, share your photos, like this story and save the images. Join the conversation.
<div id="hzroot1082406" style="width:300px;text-align:center;font-size:12px;padding:0;border:0;margin:0;"><div style="font-size:14px;margin-bottom:3px;"><a href="https://www.houzz.com.au/magazine/help-my-home-is-a-blank-canvas-where-do-i-start-stsetivw-vs~105024678" target="_blank">Help! My Home Is a Blank Canvas. Where Do I Start?</a></div><div style="padding:0;margin:0;border:0;margin-bottom:3px;"><iframe data-hzvt="MjAyMDA1MTI6NDIxMTp2aWV3R2FsbGVyeQ==" name="HouzzWidget5444734" id="HouzzWidget5444734" border=0 frameborder="0" SCROLLING=NO style="border:0 none;width:300px;height:275px;" src="https://www.houzz.com.au/jsGalleryWidget/gallery/105024678//new_window=yes/title_on=yes/width=300"></iframe></div></div>
---
Leave a comment