How to create your dream master bedroom
Author: Insider Style The Block Date Posted:25 August 2019


We'll get your main bedroom looking super great with these seven easy-to-follow design steps

You spend about a third of your life in bed, so why WOULDN'T you want to make your main bedroom the best possible version of itself it can be?
"A master suite should be like your little oasis at the end of a hard day, whether you've been at work and you just want to crash in bed or escape from the kids," says Georgia (The Block: 2017).
She's right - you want to make it as inviting as you can. But where to start? We've got you covered. Here are seven ways to make your Master Suite the ultimate relaxation room, and somewhere you actually WANT to while away the hours.



Matt and El'ise created a stunning master suite the judges all loved it, especially Darren who thought the dark hues went perfectly with the blush pinks and slate-greys of the bed linen and the muted greens of the bed.

Top 7 Design Ideas for your Master Suite

1. Start by picking out your master bedroom linen
This might sound strange, but by deciding on a colour palette for your bed linen first, you're zeroing in on the hues you love and helping set the tone for the rest of your master revamp. From there, play around with different contrasting furniture options and design ideas using a mood board - remember, Pinterest and Instagram are your friends! Once you've decided on the overall look of your room, you can start thinking about fixtures and fittings to complement.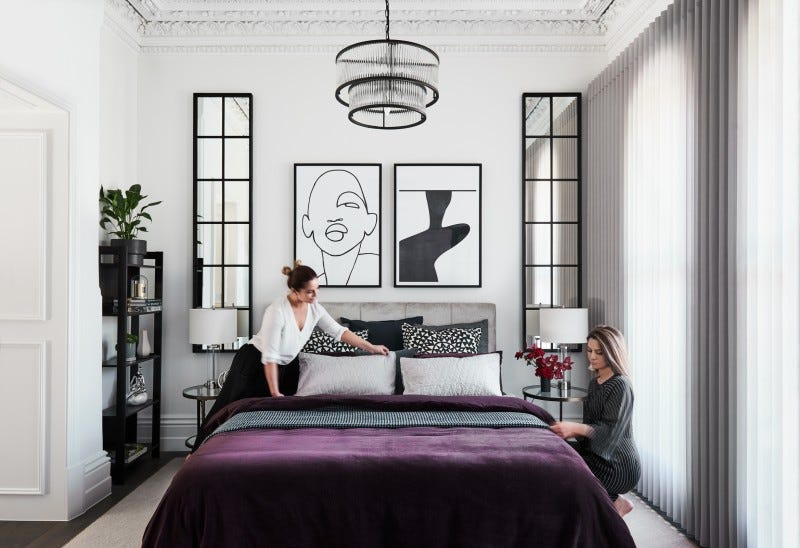 We are loving the colours Alisa and Lysandra used in their Albert Park master suite with the statement light and Peytil artwork. (Photography: Lisa Cohen)

2. Focus on master bedroom comfort
You want your bedroom to be as comfortable as possible - after all, you're going to be spending a LOT of time in there. Your bed is a great place to start. We can't stress this enough - choosing a comfortable bed, and dressing it appropriately, will make a world of difference.
"The secret is to have two doonas in one doona cover," Georgia Caceres (The Block 2017), The Block's resident Bed Making Guru explains. "It makes it extra fluffy.
"I also like to use a contrasting sheet, then a comforter and a throw. And of course, the layering of cushions."
Also, supersize it! "If you have a Queen-size bed, put a King on it. And if it's a King, opt for a Super King. It just ends up looking heaps better," she says.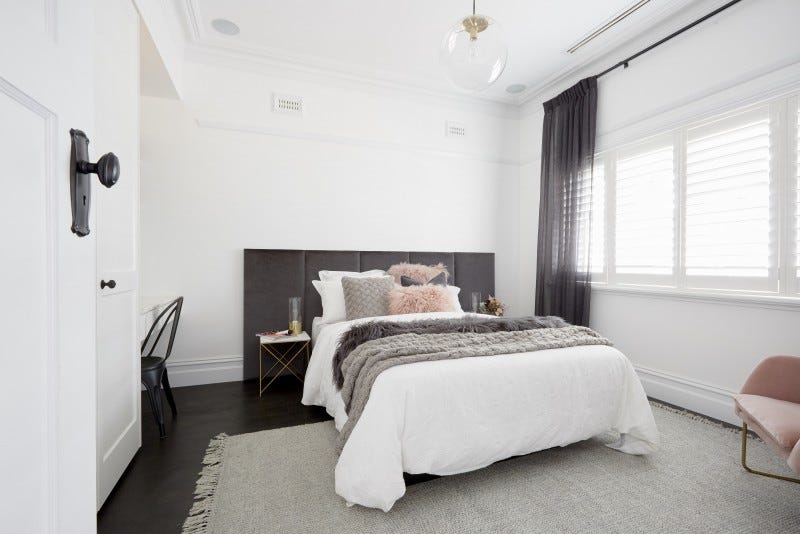 Georgia Caceres (The Block 2017) demonstrates "the secret is to have two doonas in one doona cover." We agree with Georgia, this bed looks pretty fluffy and inviting!

3. Be bold in the bedroom with colour
Bedrooms are super personal spaces, and the one spot in your house visitors aren't likely to wander into. So why not get creative? "I think bedrooms are a really good opportunity to play with colour because it's a closed space," says Carlene (The Block: Glasshouse).
Jenna Densten (The Block: 2011 and All-Stars) agrees:
"If in the rest of the house you have been light, bright and airy, in the master you might be able to experiment with colours on the walls," she says. "Deep blues and deep greens, which are really popular at the moment, will absorb a bit of the light and make the room feel a little bit more cozy, relaxing and romantic."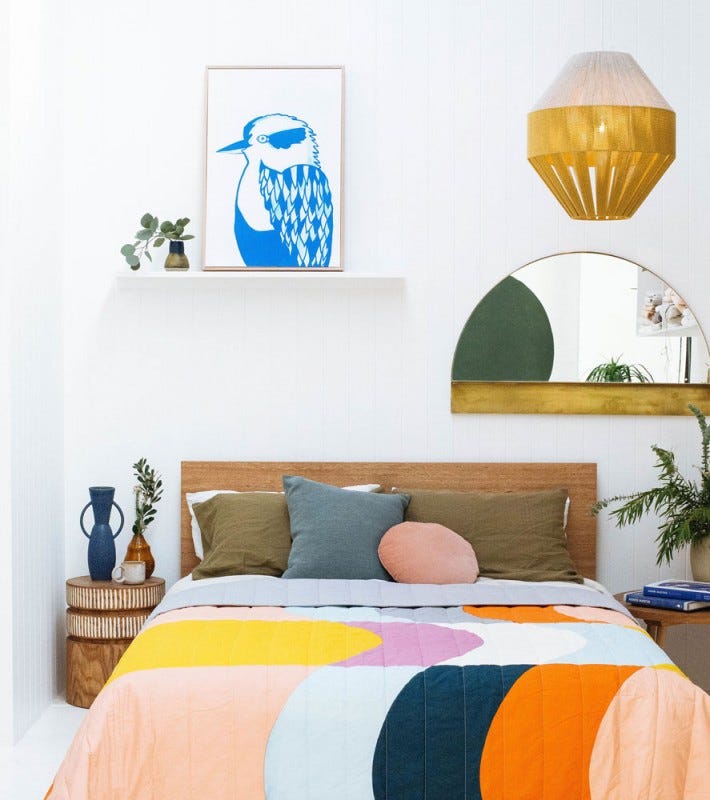 This dreamy colourful bedroom topped off by the gorgeous Madeleine Stammer 'Kookaburra' art print keeping watch.

4. Think about the placement of your bedroom furniture
The placement of the furniture in your Master is really important - get it wrong, and your bedroom could feel cluttered and chaotic. Ideally, you should think about positioning your bed opposite a door - not only does it look better, but it's also great feng shui! Bedside tables on either side of your bed create symmetry, and wardrobes placed on the opposite wall can help balance out the space. Where possible, opt for enclosed storage - not being able to see your mess and clutter has a calming effect, trust us!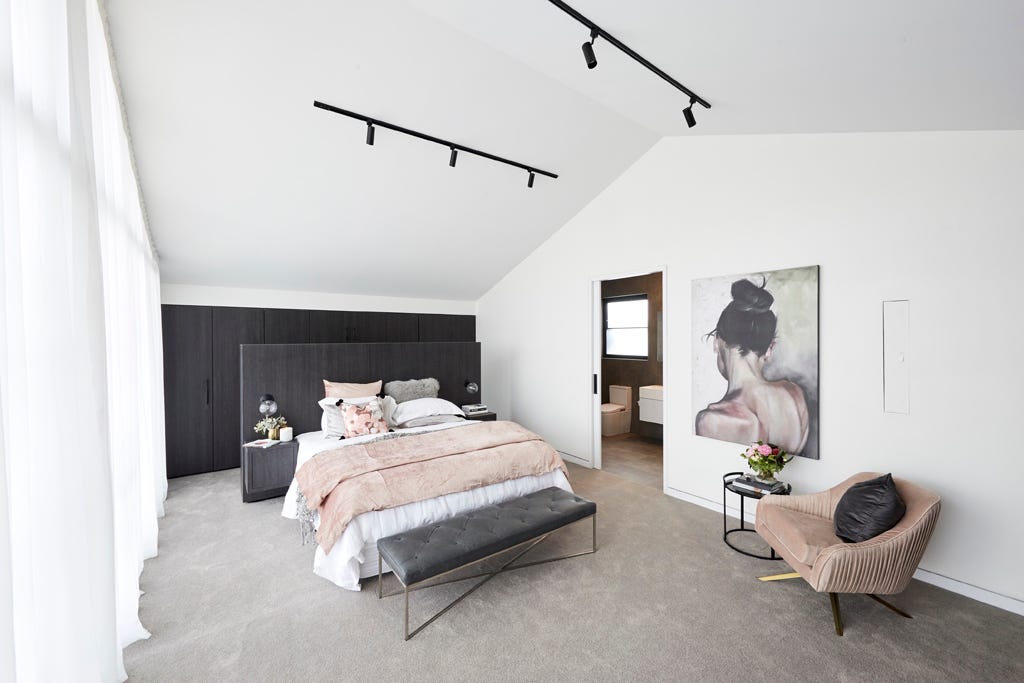 Ronnie and Georgia created a stylish master suite with a simple yet gorgeously styled space, which featured black cabinetry, a generous oversized bed, and stunning artwork by Steve Cross.

5. Light for the mood in the master suite
Lighting is another element that can add to the mood of a master suite, so decide carefully how you would like to light your space. Harsh overhead lights aren't the best option in a bedroom - the last thing you want is to make your bedroom feel like a doctor's waiting room. Harsh lighting can also wake you up, and chances are, if you're in your bedroom, sleep's the order of the day.
Wall sconces are incredibly popular in bedrooms at the moment, and provide a great, muted light source next to a bed, helping to make the room appear cozy and inviting. Where possible, however, it's still great to have several levels of illumination available, with lamps and a dimmer switch.



"I love the render, the colour palette, the look, the feel - it feels beautiful," said Shaynna, upon entering Josh and Elyse's master bedroom.

6. Make your main bedroom cozy
There's nothing better than slipping into a crisply made bed at the end of a long day - there's just something about the delicious coziness of a freshly changed bed, right? This is the feeling you want to try to create EVERY day in your master. Yep, we're talking coziness - ramp it up big time in this space.
Carpeting a bedroom, or including a large statement rug beneath the bed, is a great way to achieve this. As Neale Whitaker so often points out on The Block, contestants should really think about what they'd like their feet to feel when they first touch the floor each morning.
Wallpapers and textured feature walls are also a way to add coziness and depth to a room.
"A master suite needs to be relaxing, bring a sense of calm and have a touch of luxury," says Alisa. "It's a place where you look forward to retiring to at the end of the day."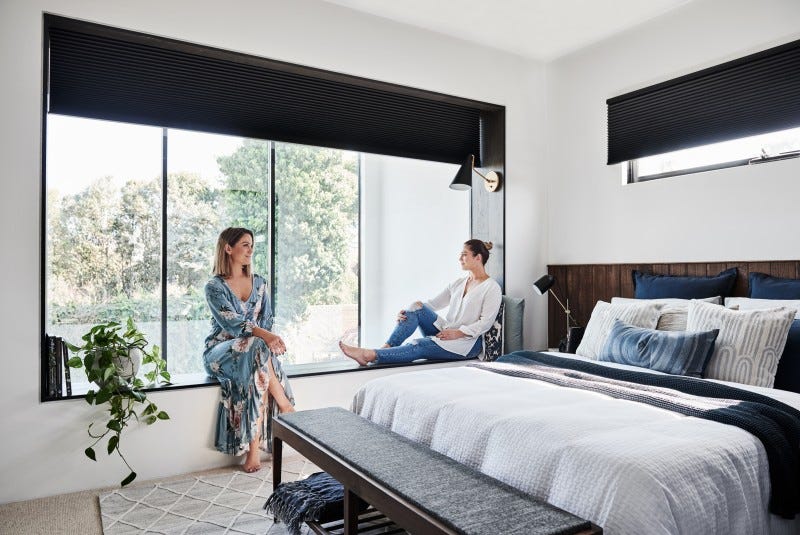 "A master suite needs to be relaxing, bring a sense of calm and have a touch of luxury," says Alisa. "It's a place where you look forward to retiring to at the end of the day." (Photography: Lisa Cohen)

7. Plan your bedroom storage
Walk-in, or standard wardrobe? It's the million-dollar question. And one that depends a great deal on how much space you have to work with. Walk-ins add a touch of luxury - especially if you opt for floor-to-ceiling customised storage, or a huge mirror - but they're not for everyone. Figure out what is going to work best in your space, and what suits your needs. There's no point trying to cram all your clothes into a too-small space if customised wardrobes across one wall would work better.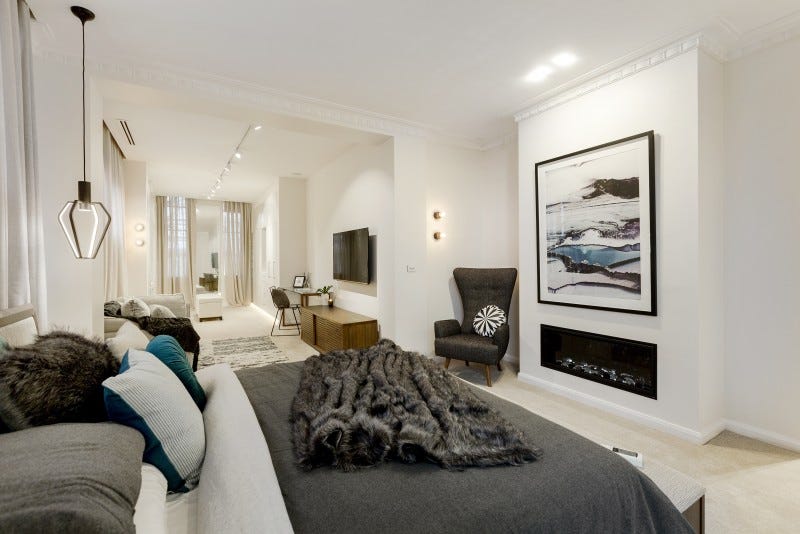 "I'm going to stick my neck out here and say this is the most luxurious bedroom I have ever seen on The Block," Neale said" of Chris and Kim's ginormous winning master bedroom.

https://www.theblockshop.com.au/blog/top-tips-to-create-your-dream-master-bedroom/?utm_source=bronto&utm_medium=email&utm_term=read+more&utm_content=+Mastering+the+Master+Bedroom&utm_campaign=AUG19+-+Master+Bedrooms+%2B+Freedom+Wardrobes&_bta_tid=42288852661401963985792469848246434065285423953158336664737336269487667385671151821205852115266552964221986
---
Leave a comment