Why Every Home Needs a Fab and Functional Entry
Author: Mona Quinn Date Posted:19 February 2017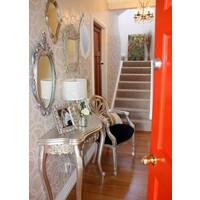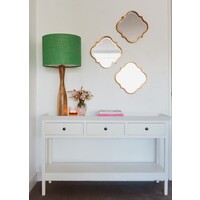 A home's entrance hall should be a place where you can stop, take a breath, and walk on with a sense of certainty
Entrance halls are transitional spaces from the communal world outside into our private havens, and can be far more than just a place to hang up your coat. Done well – through layout, decor and functional planning – an entrance hall can be both practical and serve as a place for you and your guests to gather themselves before heading indoors or out. As you'll learn below, the entry is also the place that signals what lies beyond – in terms of style, household personalities and ambience. Use the following tips to help you make more of your own entrance hall.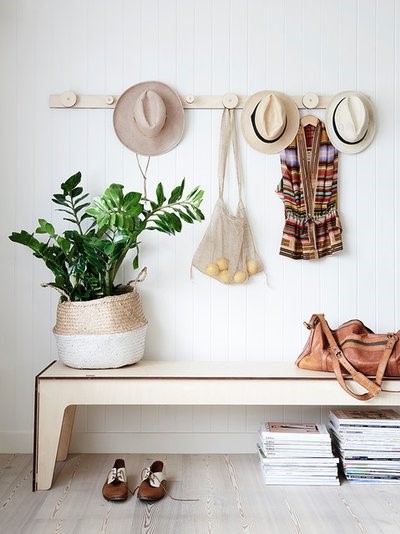 To ease the morning madness
Life can be hectic and will often require manoeuvres of epic proportions just to get yourself out the door in the mornings – let alone if you have kids, with their school, sports and activity gear, library books, morning tea and lunch. Often a deep breath is needed to remain calm and compose ourselves, all before 8.30am.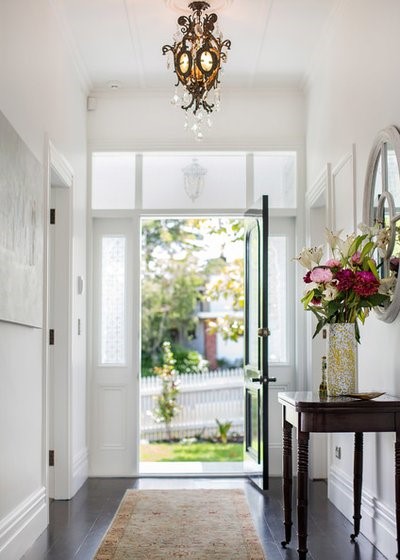 Neil McLachlan Interior Design
To provide cause for pause
What does this have to do with architecture I hear you ask? It's all to do with the 'deep breath' element, the moment where –although we are in a rush to get somewhere – we slow down, take five and then crack into it with a calmer attitude.

A home should offer this facility, a place just inside the front door where you can take a brief pause, catch your breath, compose yourself and then get on with whatever it is you are about to do. That's the purpose that a 'hall of pause' serves.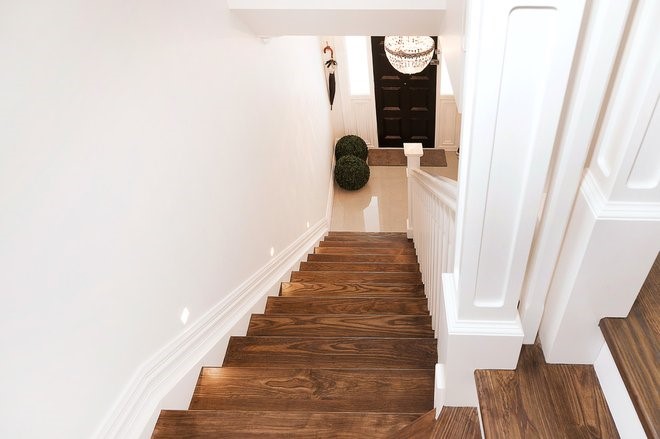 To give guests an entrée
Character homes of yesteryear, no matter how small, always have a hall of pause. Attention was paid during the design phase to consider how people would enter and exit the property. An entrance hall is like a CV for a job interview, or the entrée before the main; it paves the way for the main event, your home.

It's also the preparation area before your next encounter – it's here that guests entering the hall greet the home's occupants, take off their coats and take a pause to prepare themselves before entering the home.
When renovating your house or considering a new build, an entrance hall may seem like an expensive space that could be done without,The but its value as a transition space and a place for guests to feel welcomed into your home is significant.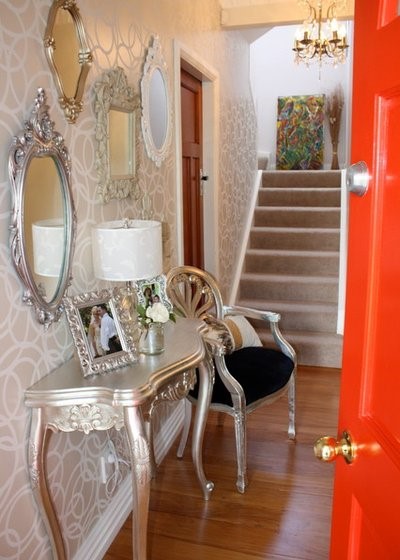 Frances Thompson Interior Design
To deliver a first impression
When we pause in an entrance hall designed for just that purpose, we get the chance to take in a few clues about the occupants before we see them. Halls often display feature pieces of furniture, photos and personal treasures. Halls of pause will also often give us a glimpse into the rest of the home – generally they are in the main arteries of a house where rooms peel off or they lead to stairs going to another level.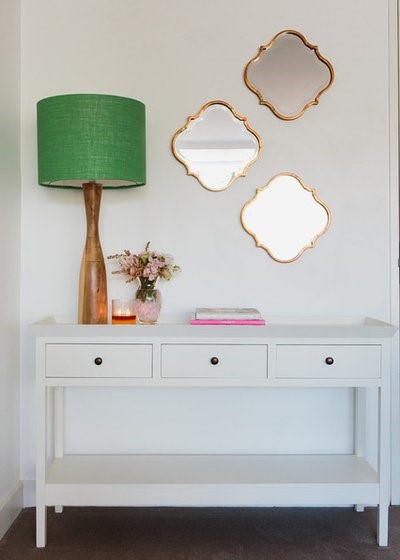 Take time to consider what your entrance space is saying to people about your home's occupants. This entrance table, which is simple, clean and very modern, paints a very different picture than the old-world glamour of the entrance hall above, for example.

Consider the impression you want to make when family and friends first step into your home – whether it be welcoming, relaxing, refreshing, impressive – and style your entry hall accordingly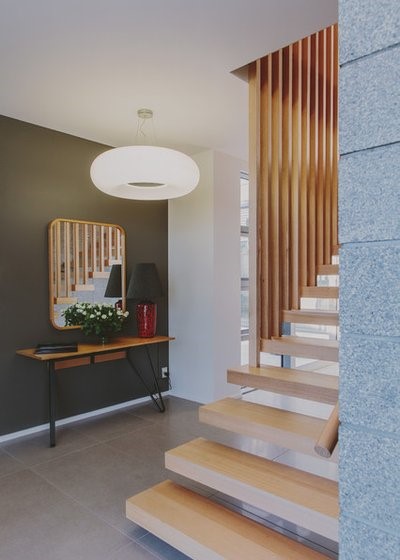 Kerryn Dunshea Interior Design
For practical purposes
If room allows, a hall table, chair or pew can be used to hold those 'do not forget' items you're often leaving behind in the morning rush, such as phones, keys and lunch boxes. As well as practical storage, such a piece of furniture can also provide a place to stop, gather all of your bits and pieces together, and take a deep breath before heading out to face the day. On your way back in the door, it can be a place to stash outside distractions, including your phone and other devices, so that the division between the busyness of the outside world and the serenity of home is clear.

A mirror located by the front door, at a height that enables you to check your appearance as you flee out the door, is another important practical piece. Adding a mirror is often enough to remind you to gather yourself together, take a last look, and head out to take on the world. On your return, a vase of flowers or a pot plant can be a subtle way to ease the transition from outside to inside, and will again will encourage a deep, relaxing breath.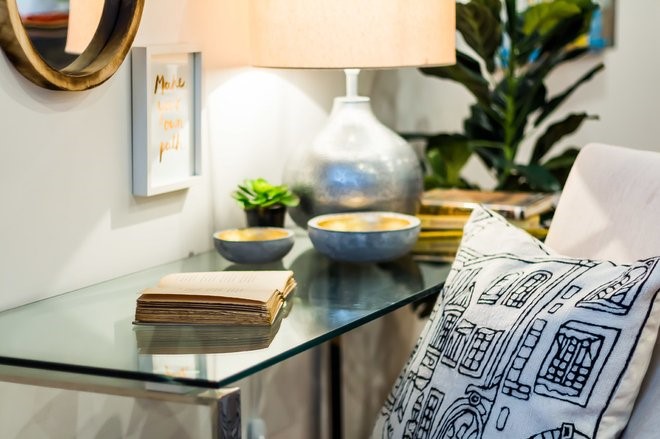 To light the way
Ambient lighting is also vital in the hallway, as often this is a narrow, small space that extends along the centre of the house and generally doesn't receive much natural light.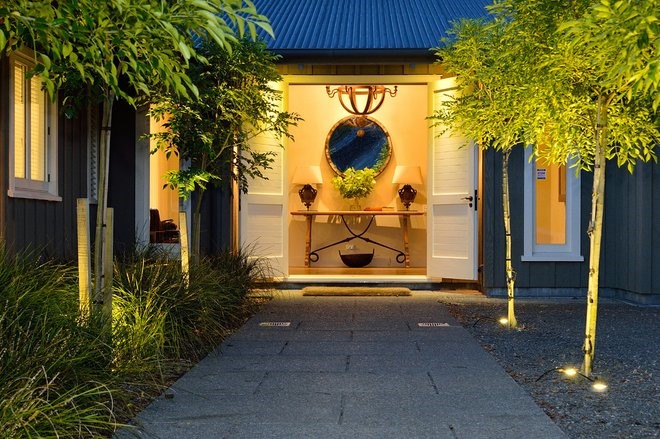 Light and objects of interest are key to creating a welcoming entrance – for example, consider using lamps to create a bright and friendly atmosphere, or candles (flameless or otherwise) to set a more relaxed, subdued mood.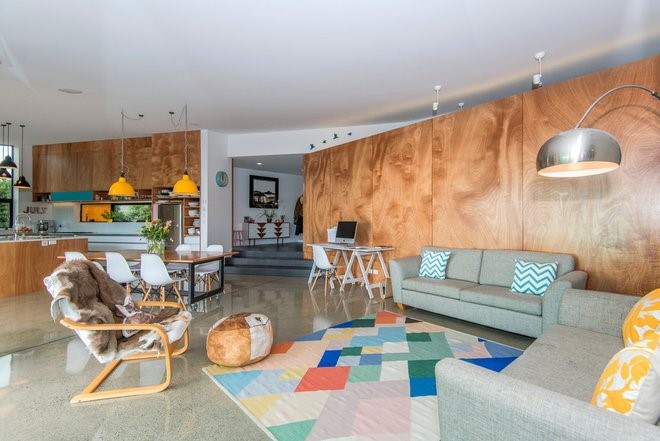 To offer a warm welcome
An entrance hall is much more than the start of a pathway to other rooms, it also serves as the transition space between interactions both passive and active; think of passing from the calm of your bedroom to a busy living area full of people chatting. An entrance hall needs to be calm but inviting, enticing those passing through it to venture further in and feel completely welcomed.


Architecture Matters Pty. Ltd.
To mark an entrance
Not all houses these days have a hall in which to pause, and have been deliberately designed this way. In some houses, you spring from the driveway through the sliding doors and immediately into the living area, where you surprise the owners almost like a jack-in-the-box popping up. This home may not have a traditional entrance hall, but the entryway has been defined with the addition of a console table to serve a similar purpose, easing the transition for guests and residents alike.

Even a simple coat rack, set of hooks, mirror or the narrowest of console tables can create an entryway of sorts in a home that's lacking a defined hall.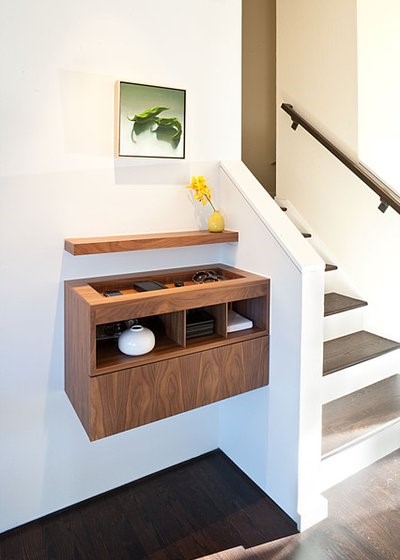 A small table or floating cabinet can also be tucked into a corner near the front door, to create an instant entryway … and a place to put your gadgets and keys.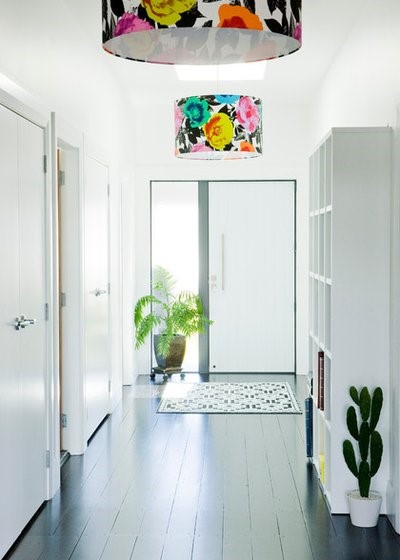 YOUR SAY
Every house should make room for an entryway of excellence. Does yours? Tell us about it in the Comments below.


<div id="hzroot1956181" style="width:300px;text-align:center;font-size:12px;padding:0;border:0;margin:0;"><div style="font-size:14px;margin-bottom:3px;"><a href="https://www.houzz.com.au/magazine/why-every-home-needs-a-fab-and-functional-entry-stsetivw-vs~77458689" target="_blank">Why Every Home Needs a Fab and Functional Entry</a></div><div style="padding:0;margin:0;border:0;margin-bottom:3px;"><iframe data-hzvt="MjAxOTEwMjE6NDA5OTp2aWV3R2FsbGVyeQ==" name="HouzzWidget4964961" id="HouzzWidget4964961" border=0 frameborder="0" SCROLLING=NO style="border:0 none;width:300px;height:275px;" src="https://www.houzz.com.au/jsGalleryWidget/gallery/77458689//new_window=yes/title_on=yes/width=300"></iframe></div></div>
---
Leave a comment