Pro Panel: 8 Ways to Add Luxury to Your Master Bedroom
Author: Ashling Kwok Date Posted:18 June 2019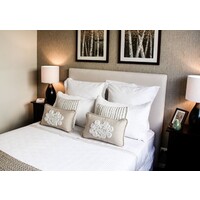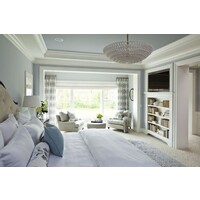 Transform your boudoir into an elegant and relaxing hideaway with minimal effort and outlay with these expert tips
Had a long and stressful day? Chances are, nothing sounds quite so appealing as the thought of retreating to the comfort of your bedroom. Adding sumptuous textures and cosy colours to the space makes it all the more inviting. Three decorating experts share their favourite ways to ramp up the luxe factor in your bedroom without a huge outlay of expense or time. This panel consists of Dimitra Oldham, director and principal stylist at Staging Designs; Elena Wigginton, interior designer at Coco Republic; and Kate Connors, interior designer and director at Connors & Co.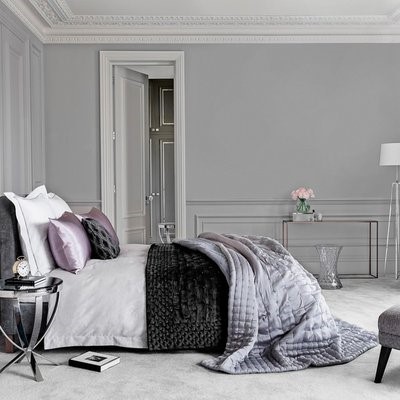 1. Choose soothing colours
Colour is one of the most important elements when it comes to setting a cosy and luxurious tone in your bedroom.

Neutrals, such as soft grey and charcoal, help create a relaxed feel, says Dimitra. "Soft blues are also a good option because they are calming and non-gender specific."

For a more dramatic look – and a feeling of warmth and cosiness – consider rich shades of emerald green, navy or deep berry in sumptuous velvet, says Wigginton. "Charcoal velvets balance masculinity with femininity and bring depth and contrast to a space," she says.

Find an interior designer or decorator near you on Houzz to transform your sleeping space into a sanctuary
2. Freshen up your linen
There's nothing quite like the feeling of slipping into a bed made up with fresh, new sheets. If your bed linen is looking a little worse for wear, it might be time for an upgrade. According to Wigginton, nothing beats pure white linen. "White linen adds freshness to a bedroom and always looks classic," she says. "Plus, it allows you to change your top-layer bedding to match seasonal trends.

"Just be aware that linen is meant to be soft and wrinkly, so if you don't like wrinkles, steer clear of this fabric." If you prefer the feel of crisp bedding, you may enjoy textiles such as Egyptian cotton.

Now I Lay Me Down: A Snoozer's Guide to Buying Sheets
3. Add a feature wall
With a few simple brushstrokes, you can turn the most drab and uninspiring bedroom into a luxurious escape. The area behind the bed is a perfect spot for a painted feature wall. For a relaxing vibe, Oldham suggests sticking to deep and muted tones and steering well clear of bright colours.

"A rich, dark palette with a flat or matt finish is also a great way to offset any artwork hanging on the walls," says Connors.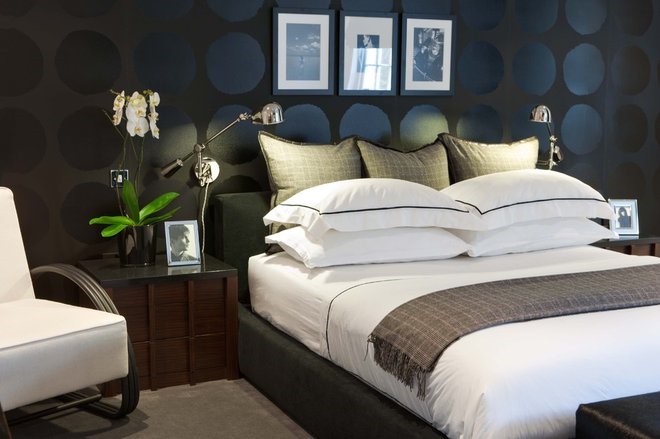 If you are looking for something unique for your feature wall, consider wallpaper with a subtle pattern and texture or an accent material. "A soft sheen will create an elegant feel, while a grass weave will bring an organic element to the space," says Wigginton.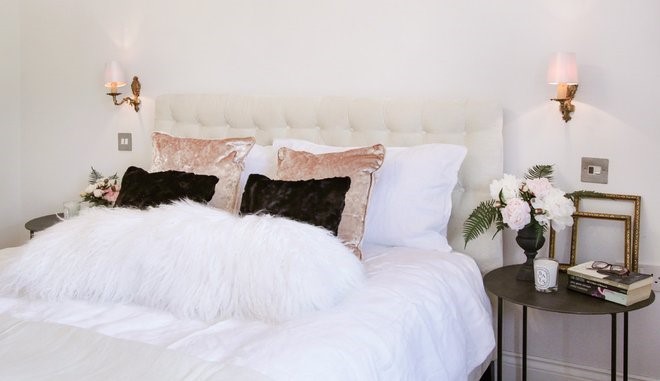 4. Introduce stylish accessories
Cushions and throws are an affordable way to add luxury, warmth and texture to your master bedroom. For visual and textural appeal, layer up scatter cushions in a medley of sizes and materials with complementing textures.

"Layering your bed with pillows and cushions in different shapes and sizes will stimulate the senses and add a touch of glam," says Oldham. "Textures such as velvet are luxurious to look at and touch."

Wigginton warns against going overboard with cushions as they will only end up on the floor. "A pair of large velvet cushions or three cushions of different sizes and complementing textures are enough to create a luxurious layered effect," she says .

When it comes to choosing a throw, Connors prefers natural fibres such as soft wool, cashmere or mohair. "Natural fibres not only look classy, but feel much nicer against the skin."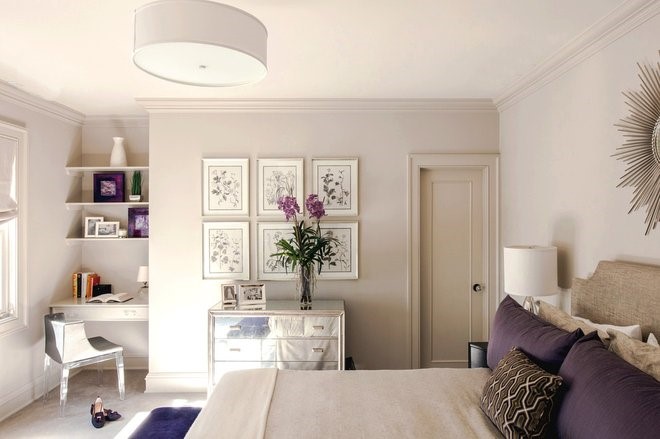 Adding wall art or a mirror will create an eye-catching focal point. Throw in some stylish photo frames and fresh flowers, and watch the whole space come to life.

"Placing pieces of rose quartz or crystal cluster on top of your favourite book, and a beautiful essential-oil candle will add a stylish element," says Wigginton. "The scent of lavender works well in the bedroom, as it promotes relaxation. And definitely no television."

New-Generation Homewares: Smarter and More Responsive Than Ever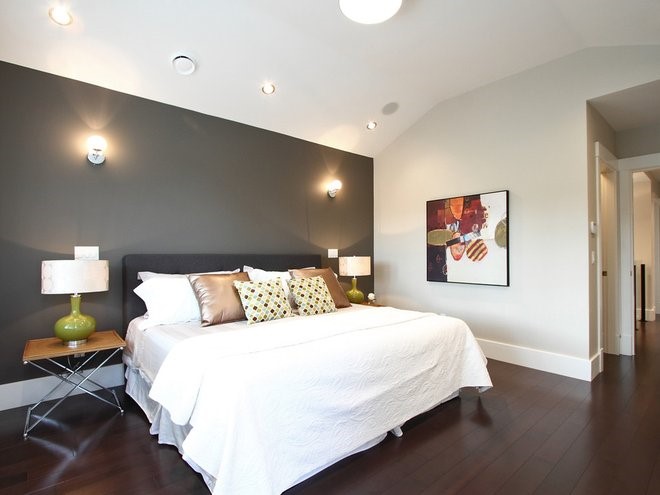 5. Light up your space
Good bedroom lighting plays both a functional and aesthetic role. When it comes to determining the correct lighting for your bedroom, scale is an important consideration. If space allows, Wigginton suggests incorporating a couple of large lamps into your design. "This will create a grand feel, which is important in rooms with a king-size bed."

"Make sure you choose lamps with an interesting texture," she adds. "Personally, I like soft, rounded shapes with an organic feel as they bring warmth and softness to a room."

Connors suggests adding fabric lampshades as they bring colour and texture and can diffuse light nicely. "Put ambient lighting on a dimmer to control brightness," she says.

"Drop pendants or tall lamps with larger lampshades on either side of the bed add drama and create a luxurious feel," suggests Oldham.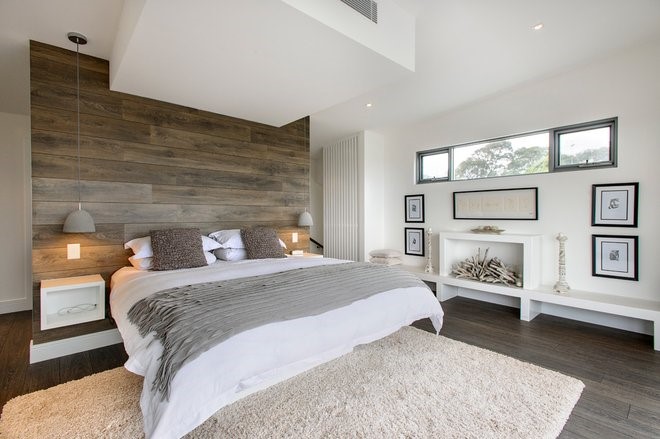 CAPITAL BUILDING :: Apartment - Renovations
6. Choose a luxurious rug
Rugs are another way to add an indulgent feel to your master bedroom. A gorgeous rug is not only a stylish accent in a room, it also boosts comfort underfoot.

"Rugs under the bed are a great way to introduce texture and luxury to a room," says Oldham. "Handmade low-pile rugs make you feel like you are walking on soft clouds of cotton balls. They are perfect for stepping onto when you are getting out of bed on a cold winter's day."

Connors recommends adding a woven rug in a muted colourway and a simple, monochromatic design as this will bring understated elegance to your bedroom – while feeling fabulous beneath your feet.

"A beautiful, chunky knitted-wool rug adds a sense of luxury with its over-scale weave, while a style with a blend of wool and art silk will add a luxurious sheen to the space," adds Wigginton.

Finding the Right Size Rug for Any Room in the House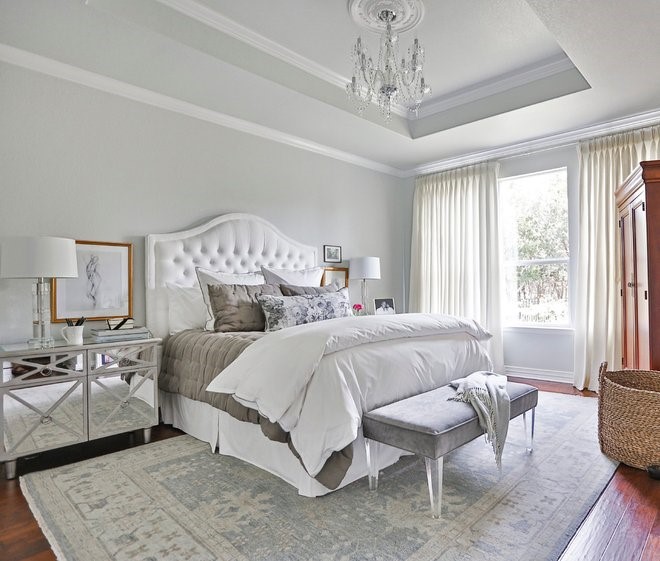 7. Invest in a beautiful bedhead
Bedheads are hugely popular right now. They're the perfect way to finish off a sleeping space while creating a comfortable spot to sit up in bed and read or watch your favourite television program on your laptop. They come in all manner of materials, including timber and plush upholstery.

"For an upholstered bedhead, think soft plain fabrics or subtle prints and textures," says Wigginton. "For warmth and an organic feel in your bedroom, consider a beautiful timber bedhead."

Picture Perfect: 30 Chic and Cosy Curtains and Blinds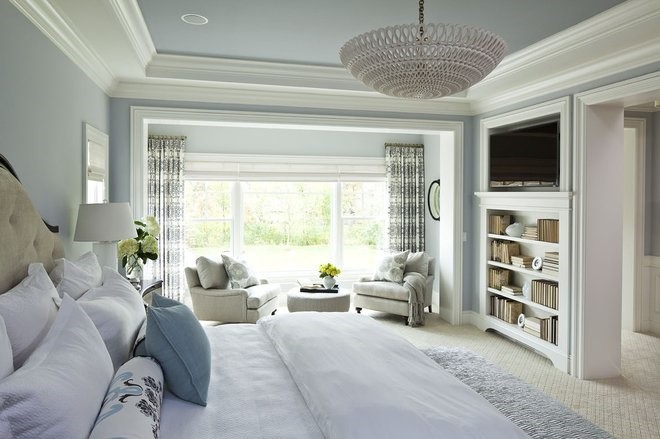 8. Comfortable seating
Introducing a stylish chair will add a luxurious element to your space and provide you with a cosy spot to snuggle up with a book.

If you are tight on space, a trendy storage ottoman at the end of your bed can be both beautiful and practical. "It can also provide storage for your winter doona and blanket," adds Wigginton.
<div id="hzroot7173956" style="width:300px;text-align:center;font-size:12px;padding:0;border:0;margin:0;"><div style="font-size:14px;margin-bottom:3px;"><a href="https://www.houzz.com.au/magazine/8-easy-ways-to-add-a-touch-of-luxury-to-your-master-bedroom-stsetivw-vs~104232773" target="_blank">Pro Panel: 8 Ways to Add Luxury to Your Master Bedroom</a></div><div style="padding:0;margin:0;border:0;margin-bottom:3px;"><iframe data-hzvt="MjAxOTA5MjY6NDA4ODp2aWV3R2FsbGVyeQ==" name="HouzzWidget6814558" id="HouzzWidget6814558" border=0 frameborder="0" SCROLLING=NO style="border:0 none;width:300px;height:275px;" src="https://www.houzz.com.au/jsGalleryWidget/gallery/104232773//new_window=yes/title_on=yes/width=300"></iframe></div></div>
---
Leave a comment