Small Changes, Big Impact: How to Decorate a Small Bedroom
Author: Pia Sinha Date Posted:19 August 2019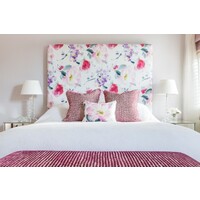 Don't let a lack of space in your bedroom dampen your enthusiasm for decorating. Here's how to make a small space sing
Turn your cramped bedroom into a relaxing retreat by making the most of every square centimetre of space. Here are some great ideas to help you maximise your small bedroom's floor space.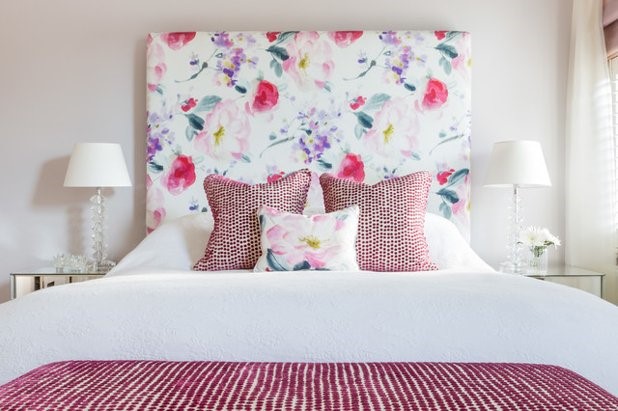 Create a focal point
In a modest-sized bedroom, one eye-catching element will lend visual flow and order to the room and make your sleep space pop. For instance, you could opt for bold patterns or vibrant colours on your bedhead, or create impact with an arrangement of bright pillows.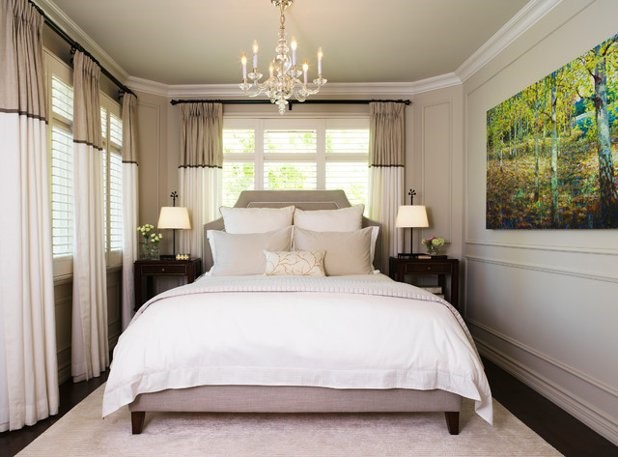 Add height
Make the ceiling of your small bedroom seem higher by hanging floor-length curtains close to the ceiling. This will automatically add a sense of height and visually expand your room.

Find a decorator on Houzz near you to transform your bedroom from drab to fab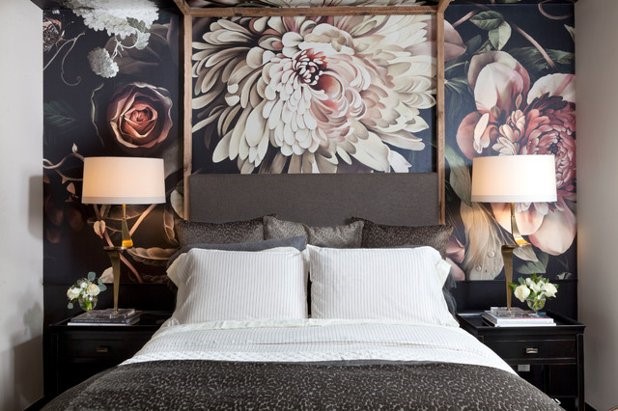 Create an accent wall
An accent wall is a stunning way to inject life and personality into your bedroom. Pick a wallpaper you love, then incorporate its colours in your bedlinen and decor.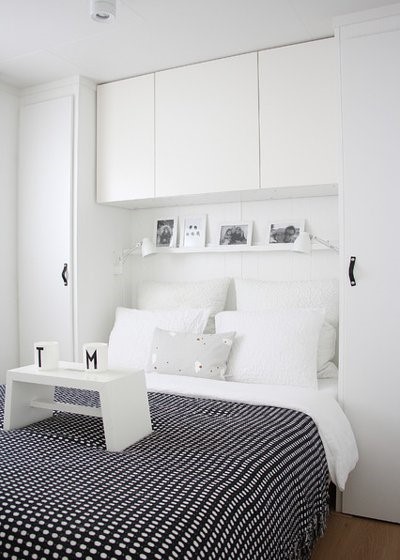 Make storage look pretty
When you're decorating a small bedroom, think about functional storage options that will look good, too. For instance, use bedside tables that have drawers and shelves. Or you could install floating shelves above the bed to display your books and accessories.

This will go a long way to reducing clutter and generating more room, and it will make your private cocoon exude even more appeal.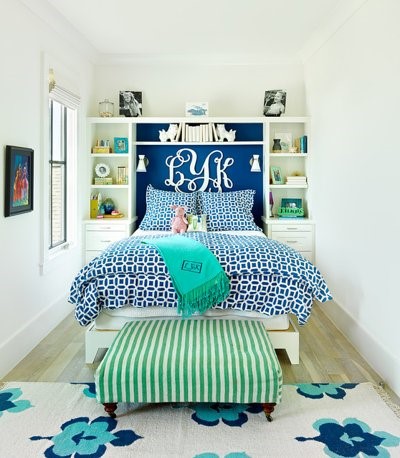 Make a statement
Just because space is limited, don't assume your options are, too. In fact, a great decorating tip is to go bold. Throw in punchy fabrics or pick interesting lighting options. Even an unexpected bedhead will lend instant wow factor to your bedroom.

Dos and Don'ts of Displaying Artwork in a Master Bedroom
Bring in the blues
Use hues of cobalt or other shades of blue for a cosy and elegant look and feel, particularly during the night. The soft glow from the lamps will complement those deep hues to enrich your sleep space.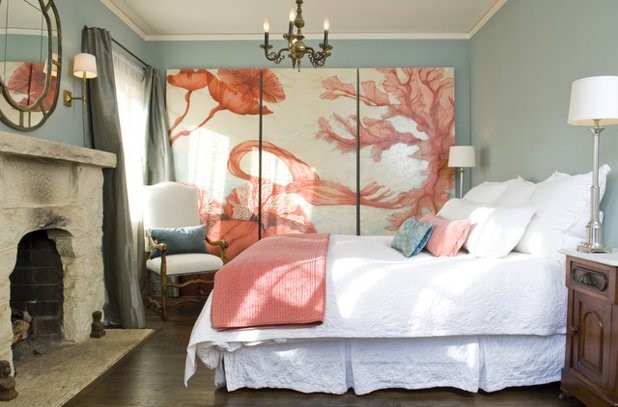 Large art for appeal
An oversize artwork will not only hide a plain wall, but the compelling visual will lend a more spacious feel to your room.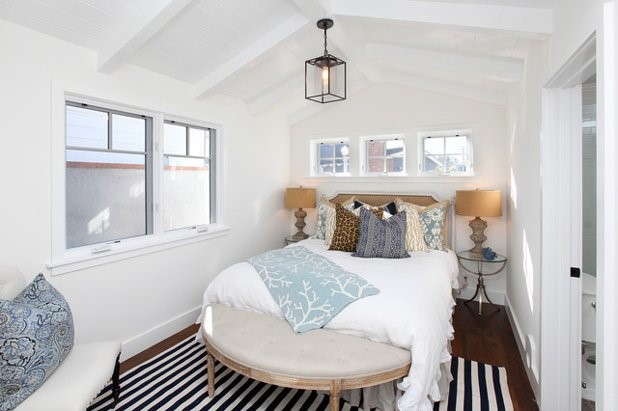 Round it off
When you're decorating a small space, it's often a good idea to opt for furniture with rounded edges. This will reduce the floor space used and create more room for walking around comfortably.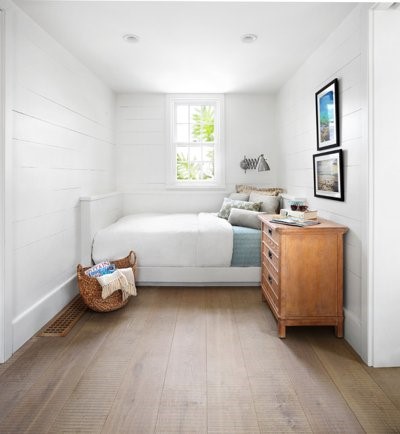 White is right
White walls, wooden flooring and heaps of natural lighting: now that's a combination you'll never go wrong with, especially if you're looking for a fuss-free way to decorate your small bedroom. What's more, white walls will help open up your space and provide you with the flexibility to change the colours in your room more frequently.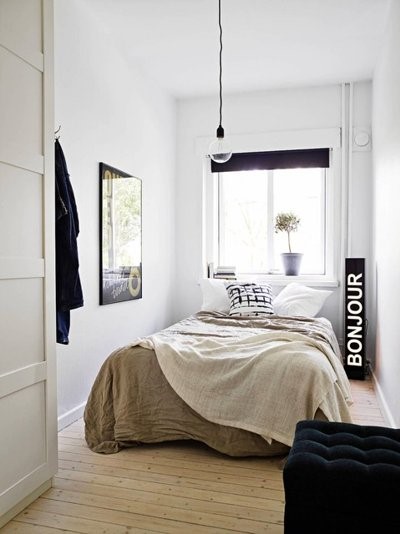 Hang your lamps
Lamps can easily take up a lot of space in your small bedroom. So why not consider hanging them from the ceiling – or using wall sconces – for a decorative yet modern touch.

Browse more beautiful bedrooms with crisp white colour schemes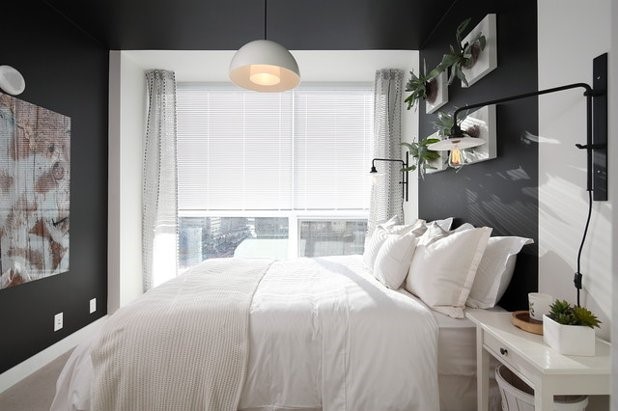 Think contrast
Think about contrast when you're decorating a small bedroom space. If you've opted for deeper hues on your walls, choose lighter shades in your bedding or accessories to unify your decor.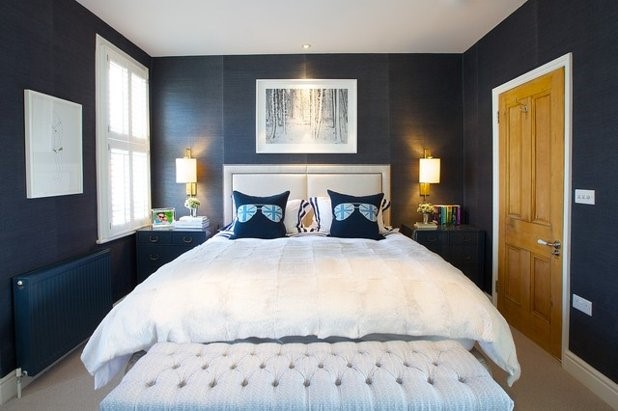 Use symmetry
Decorate with symmetry in mind to create balance in your small bedroom. Pair bedside tables, lamps, and even throw pillows to create a striking display.

Do's & Don'ts for Small Bedrooms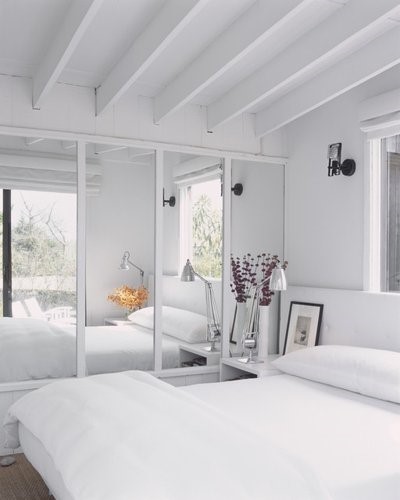 Take advantage of mirrors
A wall of mirrors – or, if you're unable to retrofit one, an oversize mirror hung on a wall – will add decorative wow factor as well as visually enlarging, if not doubling, the space. The trick here is to go bold: the bigger the mirror, the better.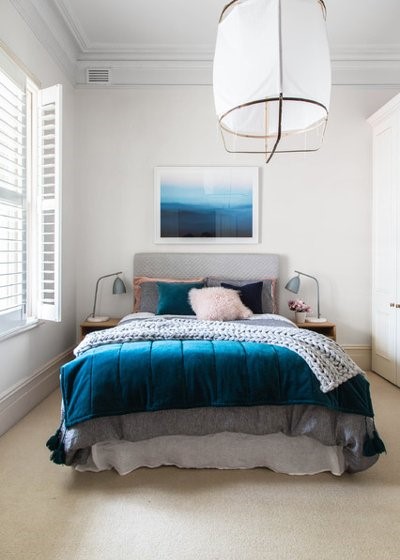 Bring in the lighting
If you're in the mood to indulge your spaces, consider hanging a pendant light or chandelier. The soft glow will lend warmth and cosiness as well as a touch of class to your bedroom.



<div id="hzroot2395094" style="width:300px;text-align:center;font-size:12px;padding:0;border:0;margin:0;"><div style="font-size:14px;margin-bottom:3px;"><a href="https://www.houzz.com.au/magazine/small-changes-big-impact-how-to-decorate-a-small-bedroom-stsetivw-vs~94242715" target="_blank">Small Changes, Big Impact: How to Decorate a Small Bedroom</a></div><div style="padding:0;margin:0;border:0;margin-bottom:3px;"><iframe data-hzvt="MjAxOTA4MjE6NDA2ODp2aWV3R2FsbGVyeQ==" name="HouzzWidget5528750" id="HouzzWidget5528750" border=0 frameborder="0" SCROLLING=NO style="border:0 none;width:300px;height:275px;" src="https://www.houzz.com.au/jsGalleryWidget/gallery/94242715//new_window=yes/title_on=yes/width=300"></iframe></div></div>
---
Leave a comment