Bedside Lamps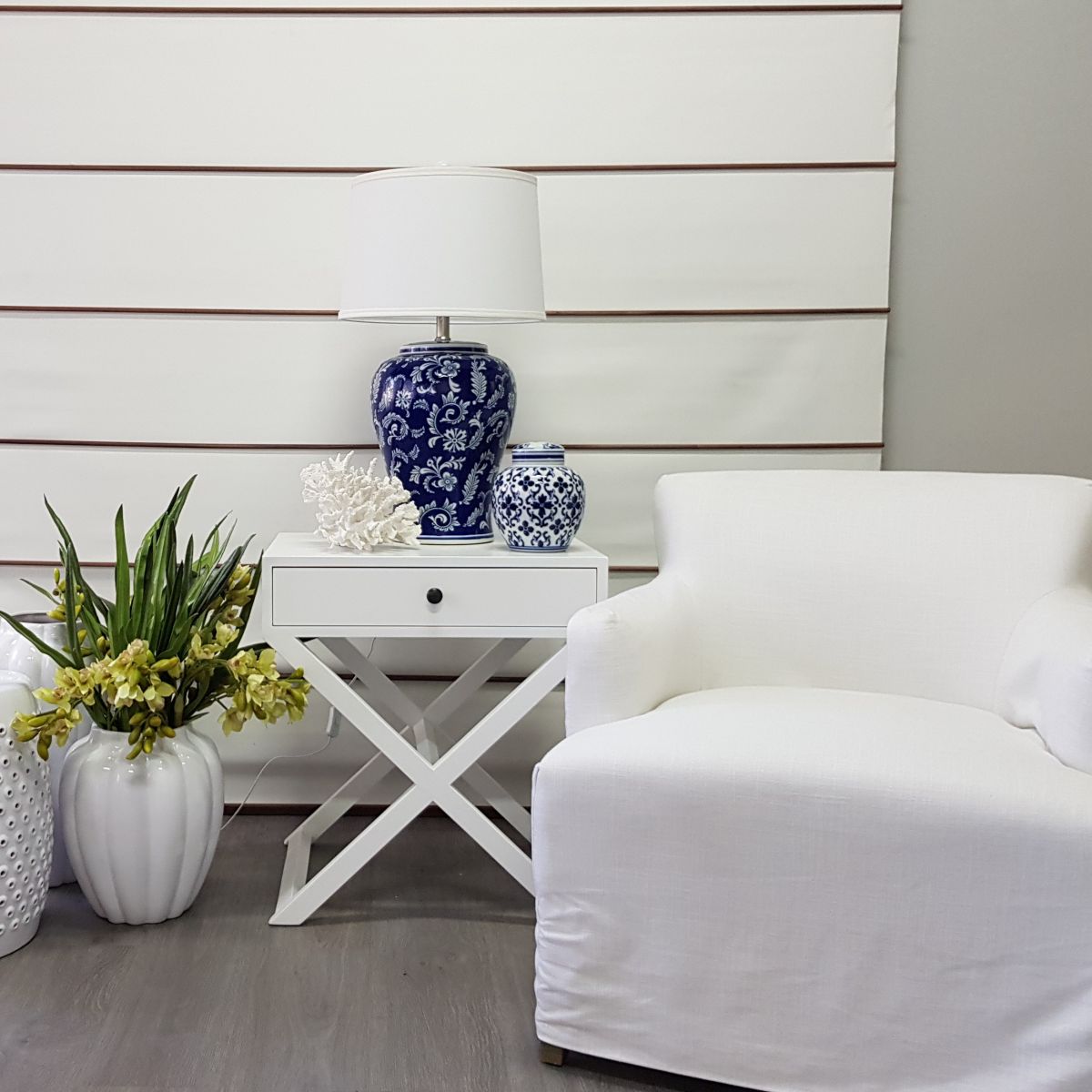 Bedside Table Lamps
Take your bedroom interiors a notch higher by choosing the right bedside table lamps that can blend perfectly with all modern and classic ambience. Welcome to Dwell Living Interiors for a wide selection of bedside table lamps in Australia.
We help you makeover your bedroom ambience with elegant bedside table lamps with different bases and stylish shades. In addition, our lamps feature a luxurious and stylish stand with a base, and it lights up your room with absolute elegance and class. We ensure that you will never get sick of our gorgeous collections as they are timeless and classic!
In addition, each of our table lamps is a statement piece that adds flair and function to your bedroom.
Specialty Of Our Bedside Table Lamps
Table lamp plays a significant role in completing the beauty of your room and providing the required light to the corner where it is placed. It has both beautification and functional value.
Dwell Living Interiors has been pioneering lighting products since 1983, investing in innovation and modernising what is technically possible. As a result, we are renowned for offering a unique lighting solution that is easy on your eyes.
Some of the features that make our sideboard piece in the mirrored category so attractive and popular are:
Wide Variety
We aim to provide a convenient and comfortable online shopping experience to all our customers. Hence, we stock an extensive collection of bedroom table lamps to make you avail of everything you need under one roof. So, whether you want contemporary, traditional, crafted or any other styles, we have all for you. In addition, you will get a variety of colour shades with beautiful designs and embellishments.
Trendy Designs
In addition, our experience and business insights allow us to analyse ever-evolving market demands. Hence, we strive constantly to stock new designs that involve fresh combinations of colours, materials, and original forms. Our aim behind it is to stay one step ahead of the competition.
Affordable Price Range
We are known for offering quality bedside table lamps at very reasonable prices. In addition, we stock a variety of lamps made from metal, wood, ceramic, glass, brass, steel, and various other materials to suit different styles and home decor.
Versatile Use
Our bedside table lamps come with designs that cater to the needs of modern and traditional bedroom settings in mind. As a result, they can perfectly blend in any house, office, or hotel setup. In addition, they are made of high-grade engineered materials that ensure their quality status. The stunning colours and polished finishes add to their elegance. In addition, it provides sufficient light to your bedroom in different shades depending on your requirement.
Moreover, we provide discounts and offers to make your purchase more valuable. Explore our product range and place an order to the offers.
How To Choose A Table Lamp?
We know you want to buy a table lamp for your bedroom that perfectly fits its ambience, and meets your requirement. But sometimes you may get confused seeing so many options and can't make out how to choose the best one.
Whether you want a standard lamp, designer lamp, touch lamp or any other table lamp, you need to keep certain things in mind to make your shopping experience satisfactory.
You will have to consider essential factors like budget, design, size, colour, style, material, and brand. In addition, you must figure out which type of lamp will best suit your interiors.
If you are a bedtime reader, you will have to check the height of the table lamp before purchasing it. Note that the lower side of the shade should fall in line with your chin while you sit on your bed for reading your books.
In addition, if you want to beautify your room, you can choose smaller table lamps that can accompany your photo frames and the flowerpot placed on the tabletop. However, It's not only the table lamp, but the bulb also makes an impact. So, you can choose a recommended bulb to get better lighting.
Call Us To Find Out More
To have complete information on our bedside table lamps or resolve your queries, call us on 1300 554 881. In addition, you can fill out our online form to leave your message for us. Then, we will get back to you for a detailed discussion.
FAQs
What is a bedside lamp?
A bedside lamp is basically a light that is placed next to your bed. It is generally small in size so that it fits well on any nightstand or table. Therefore, any lamp that is designed to be near your bed can be called a bedside lamp. However, some bedside lamps are available as clip-on types. They can be easily attached to a bedpost or shelf, while many others are attached to your bedroom wall.
Where should I place my bedside lamp?
You should place your bedside lights between 12 and 18 inches above the top of your mattress if you read your books lying down. Whereas if you like to read books in a seated position, you should place your table lamp 6 inches above your shoulder. Moreover, if you prefer a bedside wall light, you should hang it around 30 to 36 inches above the top of your mattress.
How bright my bedside lamp should be?
The brightness of your bedside table lamp depends on various factors like ambient lighting and the way you want to use it. For example, if you want a lamp for only ambient lighting, a table lamp of at least 400 lumens will be suitable. But if you prefer to read or write in bed, you can choose a lamp having a light of between 450 - 850 lumens.
---